Los Angeles residents have apparently had just about enough of their city's excessive home prices, un-affordable rents, crushing personal and corporate tax rates, overly burdensome regulations, polluted air, etc. and are increasingly leaving for a better life in Sin City.  As Los Angeles Times columnist Steve Lopez puts it, "the rent steals so much of your paycheck, you might have to move back in with your parents, and half your life is spent staring at the rear end of the car in front of you."
As Jonas Peterson points out, his family made the move from LA to Las Vegas in 2013 and were able to double the size of their house while lowering their mortgage payment all while enjoying the added benefits of moving from one of the most over-taxed states in America to one of the lowest taxed.
Las Vegas is one of the most popular destinations for those who leave California. It's close, it's a job center, and the cost of living is much cheaper, with plenty of brand-new houses going for between $200,000 and $300,000.

Jonas Peterson enjoyed the California lifestyle and trips to the beach while living in Valencia with his wife, a nurse, and their two young kids. But in 2013, he answered a call to head the Las Vegas Global Economic Alliance, and the family moved to Henderson, Nev.

"We doubled the size of our house and lowered our mortgage payment," said Peterson, whose wife is focusing on the kids now instead of her career.

Part of Peterson's job is to lure companies to Nevada, a state that runs on gaming money rather than tax dollars.

"There's no corporate income tax, no personal income tax…and the regulatory environment is much easier to work with," said Peterson.
Of course, while many residents of metropolitan areas like Los Angeles get addicted to the 'large' salaries they can earn in big cities, others, like Michael Van Essen who recently made a move from LA to Mason City, Iowa, realize that the purchasing power of your income is far more important that the nominal dollars printed on the front of your paycheck.
You'd like to think it will get better, but when? All around you, young and old alike are saying goodbye to California.

"Best thing I could have done," said retiree Michael J. Van Essen, who was paying $1,160 for a one-bedroom apartment in Silver Lake until a year and a half ago. Then he bought a house with a creek behind it for $165,000 in Mason City, Iowa, and now pays $500 a month less on his mortgage than he did on his rent in Los Angeles.

"If housing costs continue to rise, we should expect to see more people leaving high-cost areas," said Jed Kolko, an economist with UC Berkeley's Terner Center for Housing Innovation.
Of course, Los Angeles isn't the only place where residents are increasingly fleeing in search of greener pastures.  As we've pointed out before, there is a growing wave of domestic migrants that are abandoning over-taxed and generally unaffordable metropolitan areas like San Francisco, New York, Chicago and Miami in search of better lifestyles in the Southeast and Texas.
Not surprisingly, the dark areas on the map above seem to match perfectly with the dark areas on this map which indicate those with the highest state income tax rates.
Tack on a rising violent crime rate and things in Illinois have grown so unbearable that the state is losing 1 resident every 4.6 minutes.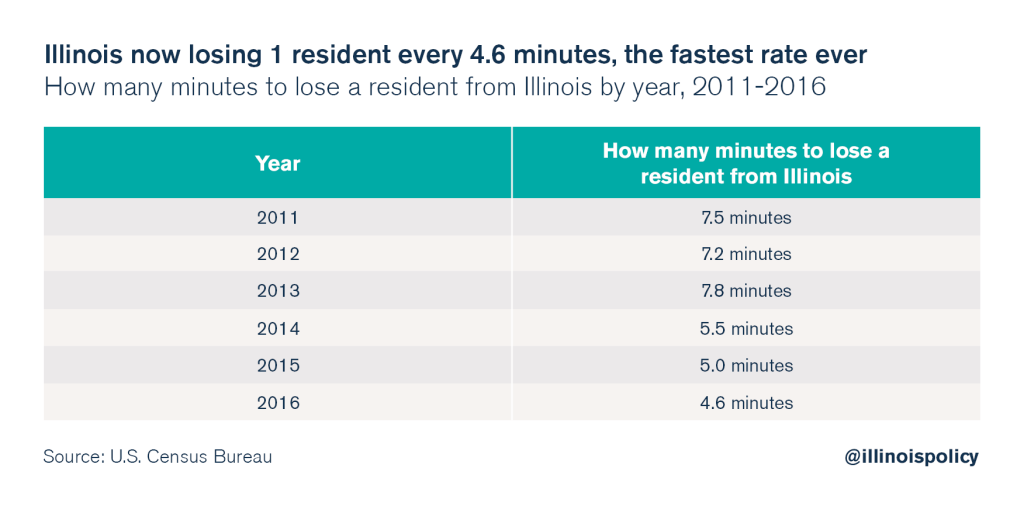 Of course, while liberal politicians often bemoan the existence of the Electoral College, these domestic migration trends could spell disaster for their opponents in national elections over the long-term as pretty much every major migratory pattern involves a mass exodus from blue states, like New York and California, into Red or Purple states like Texas, Florida, Arizona and Nevada.