Chris Christie Announces New Jersey Government Shutdown, Orders State Of Emergency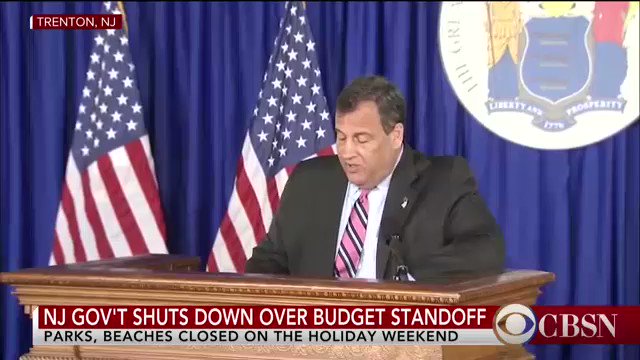 Illinois, Maine, Connecticut: the end of the old fiscal year and the failure of numerous states to enter the new one with a budget, means that some of America's most populous states have seen their local governments grind to a halt overnight until some spending agreement is reached. Now we can also add New Jersey to this list.
On Saturday morning, New Jersey Gov. Chris Christie declared a state of emergency in the state, and announced a partial state government shutdown as New Jersey become the latest state to enter the new fiscal year without an approved budget after the Republican governor and the Democrat-led Legislature failed to reach an agreement by the deadline at midnight Friday, CBS New York reports.
In a news conference Saturday morning, Christie blamed Democratic State Assembly Speaker Vincent Prieto for causing the shutdown. And, just like Illinois and Connecticut, Christie and the Democrat-led Legislature are returning to work in hopes of resolving the state's first government shutdown since 2006 and the first under Christie, before NJ is downgraded further by the rating agencies.
Prieto remained steadfast in his opposition, reiterating that he won't consider the plan as part of the budget process but would consider it once a budget is signed.  Referring to the shutdown as "Gov. Christie's Hostage Crisis Day One," Prieto said he has made compromises that led to the budget now before the Legislature.

"I am also ready to consider reasonable alternatives that protect ratepayers, but others must come to the table ready to be equally reasonable," Prieto said. "Gov. Christie and the legislators who won't vote 'yes' on the budget are responsible for this unacceptable shutdown. I compromised. I put up a budget bill for a vote. Others now must now do their part and fulfill their responsibilities."
Politics aside, the diplomaitc failure has immediate consequences for Jersey residents: Christie ordered nonessential services to close beginning Saturday. New Jerseyans were feeling the impact as the shutdown took effect, shuttering state parks and disrupting ferry service to Liberty and Ellis islands. Among those affected were a group of Cub Scouts forced to leave a state park campsite and people trying to obtain or renew documents from the state motor vehicle commission, among the agencies closed by the shutdown.
As funds run out elsewhere, it will only get worse.  Police were turning away vehicles and bicyclists at Island Beach state park in Ocean County.
"If there's not a resolution to this today, everyone will be back tomorrow," Christie said, calling the shutdown "embarrassing and pointless." He also repeatedly referred to the government closure as "the speaker's shutdown."  Christie later announced that he would address the full legislature later at the statehouse on Saturday.