Nearly every consumer product – from food, to textiles to electronics – sold in the US at some point touches the bed of a truck. Which is why the shortage of truckers to ferry goods across the US has become such an intractable problem for American companies – and unemployment at 3.8% isn't helping.
A shortage of workers is forcing trucking firms to raise wages and provide other incentives as they seek to fill an "official" shortage of 60,000 jobs that some industry insiders say is really closer to 100,000.
And as companies become more desperate, they're willing to take a look at applicants who never would've had a chance under normal circumstances, according to the Washington Post.
At TDDS Technical Institute, an independent trucker school in Ohio where Blocksom has considered enrolling, veteran teachers say they have never seen it this bad. They say there may be closer to 100,000 truck driver openings.

"As long as you can get in and out of a truck and pass a physical, a trucking company will take a look at you now," said Tish Sammons, the job placement coordinator at TDDS, whose desk is full of toy trucks and fliers from the companies that call her daily begging for drivers. "I recently placed someone who served time for manslaughter."
WaPo's story opens with an anecdote about Bob Blocksom, an 87-year-old retired insurance salesman who is searching for a job after having not saved enough money for retirement.
And trucking companies, as it turns out, are willing to give him a shot – even as most employers wouldn't consider a man his age. The only thing holding him back? Being away from his wife of 60 years.
LAKE MILTON, Ohio — Bob Blocksom, an 87-year-old former insurance salesman, needs a job. He hasn't saved enough money for his retirement. And trucking companies, desperate for workers, are willing to give him one.

Age didn't matter, they said. If Blocksom could get his "CDL" — commercial driver's license — they would hire him for a $50,000 job. One even offered to pay his tuition for driver training school, but there was a catch: Blocksom had to commit to driving an 18-wheel truck all over the United States for a year.

So far, that has been too big of an ask for Blocksom, who doesn't want to spend long stretches of time away from his wife of 60 years. "The more I think about it, it would be tough to be on the road Monday through Friday," he said.
Wages listed in the story ranged as high as $80,000 a year – plus benefits. And some companies say they're considering raises because that still isn't enough to appeal to young people. Already, WaPo says, companies like Amazon, General Mills and Tyson Foods are passing higher transport costs onto consumers. Wal-Mart even identified rising transportation costs as the biggest "head wind" facing the company.
"This is slowing down the economy already," said Peter Boockvar, chief investment officer at Bleakley Advisory Group. "If it takes me a week instead of two days to ship products from point A to B, I'm losing potential business."
Even with new federal regulations mandating that truckers log their hours so they don't breach the maximum 11-hour daily limit, being a trucker is a "hard job" that takes "a special breed" of person. New truckers often gain weight from sitting all day. The periods of separation often strain interpersonal relationships, and divorces are common.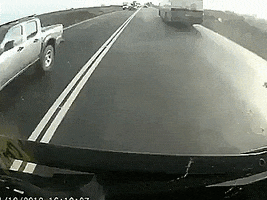 Trucking is also surprisingly dangerous: There were more than 1,000 fatalities among motor vehicle operators in 2016, according to the Labor Department. That means being a truck driver is eight times as deadly as being a law enforcement officer. Obtaining a CDL also takes months of schooling and can cost as much as $7,000. Unsurprisingly, a growing number of candidates are failing the mandatory drug tests that are part of the application.
The community around TDDS is full of shuttered factories and bars named "Lucky Inn" and "Horseshoe." The steel mills closed in the 1980s, and a GM factory just announced more than a thousand layoffs. One of the only industries growing in the area is trucking, yet locals are hesitant to become truckers.

One man, a janitor, hanging out at Larry's Automotive repair shop in nearby Warren, said his uncles were truckers and told him they would "kill him" if he ever got into the harsh business. The owner of the shop said he had thought about becoming a trucker but decided it wasn't feasible after he had children.

Trucking jobs require people to leave their families for weeks at a time and live in a small "cabin" with a hard bed. Divorces are common, veteran drivers say, and their children forget them. A life on the road is often costly and unhealthy. Drivers sit for hours a day in diesel trucks and pull into truck stops that typically serve greasy hot dogs and chili.

Weight gain and heart disease are common, says Gordon Zellers, an Ohio physician who spends half his time examining truckers and administering drug tests, which increasing numbers of CDL applicants fail. He advises the TDDS students to see a nutritionist, but he knows most won't.
Even companies that don't require their drivers to go "over the road" – that is, make long-term hauls – are struggling to recruit.
"These guys are like diamonds right now," said Jason Olesh, a vice president at Aim Transportation Solutions who left his family vacation to rush to TDDS to talk to students. "We're down 90 drivers across our fleet of 650."

Olesh gave his best pitch to the students: He offered them jobs that pay $70,000 a year with full benefits and regional routes hauling water to oil-drilling sites that would have them home most nights.

"I'm offering you a regular job with a 10- to 12-hour shift so you can see your kids," Olesh said.
The worker shortage has, unsurprisingly, led to a wave of poaching that has sent the industry's turnover rate to 94%. At this rate, companies and consumers better hope that Elon Musk succeeds with his goal to launch a fleet of autonomous trucks several decades ahead of schedule.