Global food prices are surging, and the timing couldn't be worse. 
From Rabobank's Michael Every and Michael Magdovitz to everyone's favorite permabear, SocGen's Albert Edwards, both point out that food prices worldwide are quickly rising and overwhelmingly agree the Federal Reserve is exacerbating the problem. 
Readers got a taste of the developing food crisis in Rabobank's note titled "On The Verge Of A Global Crisis: One Bank Warns Of A "Biblical" Surge In Food Prices" on Thursday, warns about food shortage, rising food prices, central banks and governments running economies "hot" which has altered market perceptions of future inflation risks, and volatile weather, have produced an environment where the EM countries, already struggling with food insecurity, are being slapped with soaring food prices. 
SocGen's Edwards warned about this all back in December. Then, he pointed out that the global tidal wave in food inflation back in 2011 was primarily due to the "Fed's QE policies." He said the effect of higher food prices tends to be much more significant for EM countries and can produce social instabilities. 
In early March, new data from the UN's Food and Agriculture Organization's Food Price Index showed global food prices in February rose for nine consecutive months. The figures were alarming as vegetable oils surged the most. 
Taking a more in-depth view into the world of edible oils, Reuters published how more gasoline is being thrown onto the food inflation fire wreaking havoc in EM countries. President Biden's green fuel push using edible oils as fuel for automobiles has pushed up vegetable oil prices. In less than one year, worldwide vegetable oil prices are up more than 70%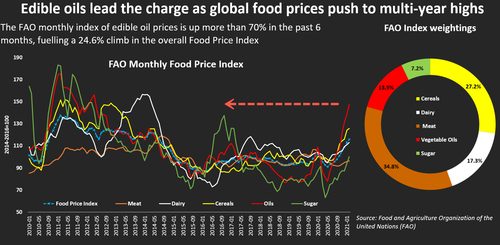 Biden's election win and the green energy revolution has ignited biofuel demand: 
"There's been a new factor that has come after President Biden's election that has projected higher demand for soy oil, which is 100% biodiesel," leading edible oils analyst Dorab Mistry said.

"Four refineries have already said that they will terminate refining fossil fuel (and) instead of start producing vegetable oil-based fuel."
Soaring edible oil prices, which are essential for food preparation in billions of people's diets, are already hurting EM countries' consumers. 
Since the Myanmar Coup began at the start of February, palm oil prices have surged 20%. The World Food Programme said rising food prices are troubling signs for low-income people in the Asian country.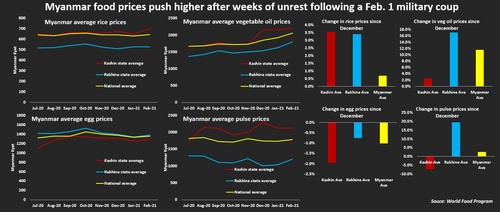 In India, edible oil demand has fallen as prices increase. Imports to the country are expected to sink this year as prices rise. 
"We were expecting a recovery in demand after the country opened up, but India's edible oil imports will remain at last year's level at 13.2 million tonnes," said Sandeep Bajoria, chief executive officer Sunvin Group, a vegetable oil broker.
"Earlier, 2021 imports were forecast at 14 million tonnes, but higher prices are leading to demand destruction."
Here are prices of edible oil prices skyrocketing worldwide.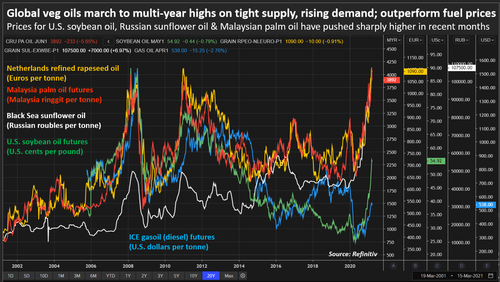 In terms of percentage change from March 2020, global edible oil prices have jumped between 50% to 155% in a short period. This is producing a demand shock among consumers in EM countries who can no longer afford the oils.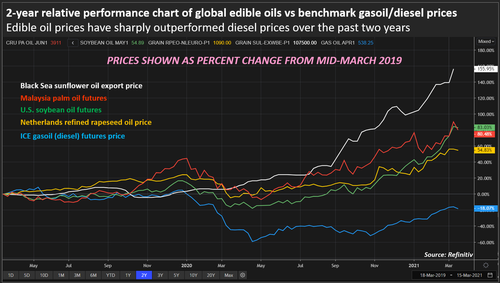 "There is this age-old argument about food versus fuel, but no one dare talk about it as it is all about green energy now," Mistry told Reuters.
"It will take a long time, and noises from the developing countries, before people actually try to slow down the rate at which green energy is being produced."
Mistry added that demand for edible oils in Africa "has slowed down" since price increases. 
So far, the prices have yet to cause an outage in wealthier nations, but to Albert's point earlier, soaring food prices are bound to cause social instabilities in EM countries as some people can no longer afford cooking oil to prepare their food. 
… and who to blame for all of this? There's a confluence of factors mentioned above as the trend in rising food prices appears to be gaining momentum. However, the latest is Biden's push for a green new economy has certainly made the situation worse.