Used car prices in the U.S. continue to skyrocket as a result of both the country's economic recovery and an ongoing supply crunch. 
The Manheim U.S. Used Vehicle Value Index has continued to soar through the month of April, to a new record, as a result of the worsening of a semiconductor shortage, low lot inventories, and a continuing post-Covid "boom". 
The index was up 6.8% in the first 15 days of April, Bloomberg noted. The index is up an astounding 52% from the same time last year to 191.4.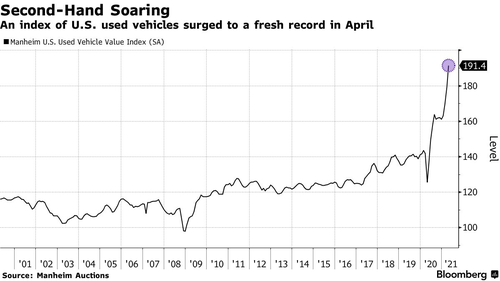 The data, which is put together by Cox Automotive, "takes into account all U.S. sales through Cox's Manheim automotive auctions that fall in to one of 20 different market classes".
Cox Chief Economist Jonathan Smoke commented about the spike:
"Demand is perfectly stimulated from improving consumer sentiment, recovering jobs, accumulated pandemic savings, tax refund season, and American Rescue Plan cash payments.

Supply was decimated last year by COVID-19 shutdowns reducing new vehicle production, and used supply was reduced from strong demand last summer.

Production remains limited as supply chains struggle to overcome issues like the semiconductor shortages."
Recall, we pointed out at the beginning of this month that low inventories and chip shortages had prices re-accelerating in 2021 – at a stunning rate – after a brief pause from October to December. 
From 1995 to the end of 2019, used-vehicle prices have risen at around a 1.5% to 2.0% per annum (admittedly with some pops and drops along the way). The last year has seen prices rising at around 15% per annum… and April's 6.1% spike MoM sent the year-over-year change in prices up a stunning 52.2%.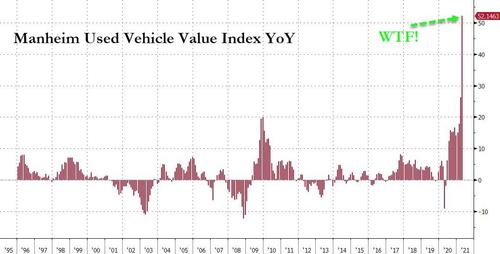 Source: Bloomberg
As we detailed previously, the current semiconductor shortage at automotive assembly plants and very light dealer inventories, especially in pickup trucks, is driving marginal demand here.
While many market observers suggest this pricing rebound should be viewed as a short-term phenomenon, WardsAuto.com notes that the trend has stubbornly continued.
And while low inventories have meant transaction volumes are admittedly much lower than they have been in the years leading up to 2020, this is another example of the importance of the used-vehicle segment in supporting the automotive industry's recovery in the wake of a tumultuous pandemic year.
The low-inventory scenario on the new-vehicle side of the market has been, and will continue to be, particularly tough, limiting the mid- to-long-term outlook for used-vehicle supply.
Source: ZeroHedge