If you don't have your private keys, you don't own it.
FTX Founder Sam Bankman-Fried Lists
Bahamas Penthouse For $40 Million
Zelenskyy should buy it.
Alameda Frontran Crypto Tokens
Ahead Of New Listings On FTX
FTX Facing Criminal Probe By Bahamas Authorities, But Musk Counters
There Will Be "No Investigation" Of "Major Democrat Donor" SBF
Manhattan US Attorney Office
Probing FTX Collapse
But as Elon Musk said, "SBF was a major
Dem donor, so no investigation."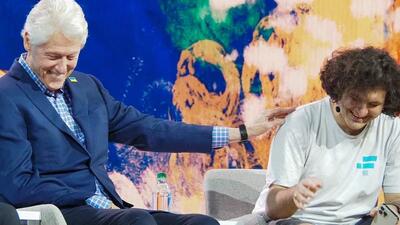 The FALL of the CRYPTO CABAL: FTX was a massive
money laundering slush fund for Democrats
Are the SEC and The Federal Reserve Part of the Story
of Bankrupt FTX? Derivatives Become an Issue.
FTX Held Just $900MM In Liquid Assets Vs $9BN In Liabilities
As Video Emerges Confirming Alameda
Knew It Was Pilfering Client Funds
UKRAINE "MILITARY AID" FROM USA — WAS
INVESTED IN CRYPTO "FTX" BY UKRAINE!
FTX Had Ties To Ukrainian Gov,
WEF And Biden
FTX Founder Spent $40 Million As
Democrat Midterm Megadonor
Sam Bankman-Fried Bought Into Stakeholder Capitalism
And Proved It's A Disastrous Ideology