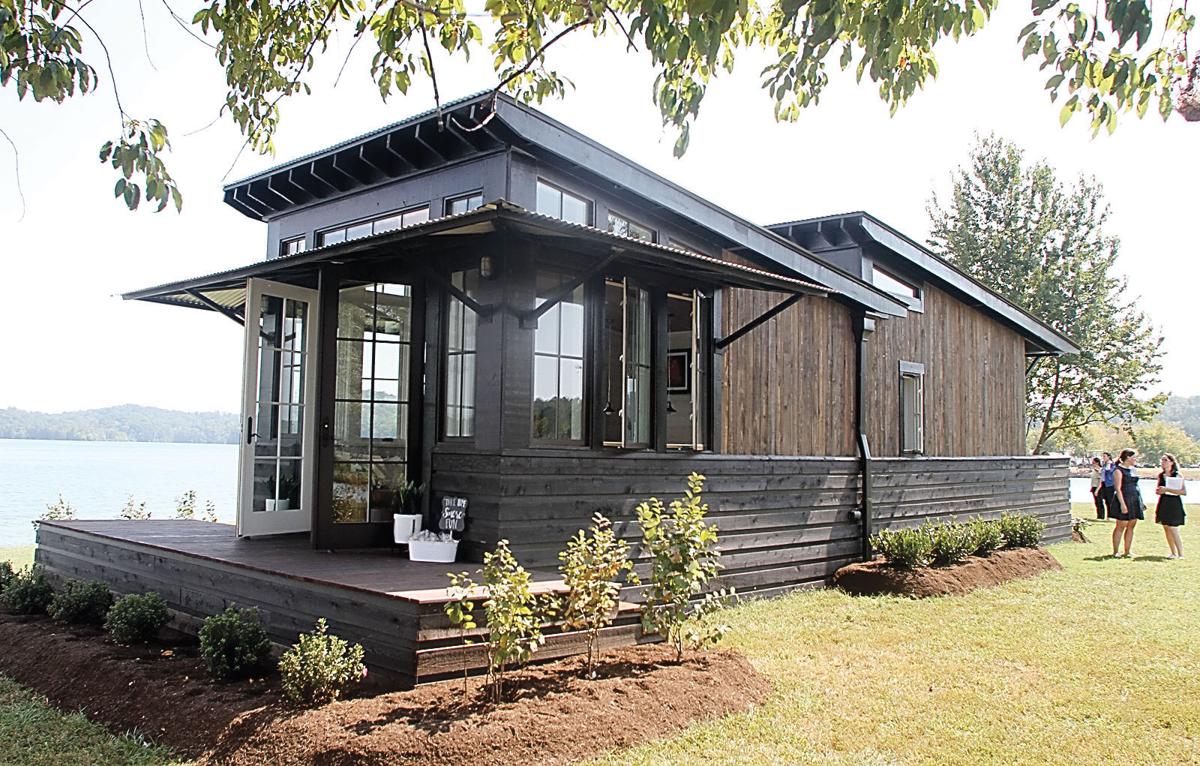 Alcoa-based home builder Clayton Homes recently unveiled the newest addition to its tiny homes line. The Saltbox, the company's second tiny home floor plan designed by Alabama architect Jeffrey Dungan, offers a modernized "lean-to" design that's geared toward simple, yet stylish, living.
At 452-square feet, the structure features 270-degree views, real oak flooring, white quartz countertops, compact appliances, energy-efficient aluminum clad windows and doors, vertical shiplap wood siding and a covered porch.
"This really is a luxury home," Jim Greer, Clayton's tiny home brand manager, told The Daily Times during a private tour of The Saltbox model Thursday at Toqua Campground in Vonore. "A lot of the appliances and things like that are geared more toward the high-end."
Not only is The Saltbox larger than most other tiny homes, which are typically 400-square feet or less, Greer said the house is also built to state and local codes, meaning it's affixed to a permanent foundation.
"A lot of the tiny homes out there are what's considered a 'tiny home on wheels' that can be hooked up to the back of a truck and pulled around, so they're built to an RV code," he explained. "But the challenge in all that is where they can be placed. … A lot of people want to put one in a subdivision or on a piece of property and live in it permanently, but most of those really aren't designed for that."
The Saltbox, however, can be placed at any location and be lived in year-round.
"These houses go on a permanent foundation," Greer said. "There's no steel under the frame or wheels or anything like that. It's basically the same as the foundation you build for a site-built home."
While Clayton is experienced in site-built foundations, Greer emphasized that the concept is rather new to the tiny home world.
"We're trying to be more innovative," he said. "Plus, it gets around a lot of those planning and zoning challenges a lot of people face."
Both The Saltbox and Low Country, the first design released by Clayton's Tiny Homes division, are now available for public purchase, with pricing starting in the lower $100,000's.
Greer said the company is exploring additional tiny home design options, including ones at lower prices.
"We're looking at ways to fill the market for people who are maybe looking for different price points," he said. "It's something new and outside-the-box that we're working on getting through."
In fact, Greer said Clayton's tiny homes line was born out of the company's commitment to creating new products that target different groups.
"The whole company has a goal to keep trying different things and being innovative, and this is just an example of that," he said. "We're beginning to expand our reach and look at new areas."
The main hope, Greer said, is to provide a solution for people who want to live smaller and simpler.
"That's kind of where the tiny home movement began," he said. "A lot of people want to just give up their things and live in a tent."