Summary
Some people seem to believe that Bitcoin might be worthless, we discuss their arguments.
If there was value in Bitcoin, how would we know?
Shared delusions, are they useful?
The case for Bitcoin having no value at all
(Hans Hauge) If you've read anything I've written so far, you know that I'm long Bitcoin (BTC-USD). However, that doesn't mean I've turned a blind eye to the crowd that says it's all an illusion, that Bitcoin is intrinsically worthless.
Let's take a look at who is making these arguments, and what they're saying.
Jamie Dimon – J.P. Morgan Chase CEO
In September of 2017, Jamie Dimon said:
And:
There will be no real non controlled currency in the world. There's no government that's going to put up with it for long.
So, if I understand correctly, Mr. Dimon's argument is that every government in the world will soon block all cryptocurrencies. Therefore, Bitcoin is doomed.
Warren Buffet and Charlie Munger of Berkshire Hathaway
In May, 2018, Warren Buffet said that Bitcoin was:
And Charlie Munger said:
To me, it's just dementia. It's like somebody else is trading turds and you decide you can't be left out.
If I understand correctly, Mr. Buffet believes that Bitcoin is super tasty but very poisonous, like a Big Mac times itself, and Charlie Munger is trying to say that the Bitcoin market is pure FOMO, or the Fear of Missing Out. Therefore, Bitcoin is doomed.
Putting these ideas to the test
I hope you are a data driven person like me. I believe there's no better way to have a clear understanding when people's tempers are raging than to just look at data and slowly and carefully think about what makes sense.
Let's start with Jamie Dimon's argument that all governments in the world will ban Bitcoin. How does this argument stack up? Let's look at what's going on in the three largest economies in the world.
All governments to ban Bitcoin?
While China has placed a temporary ban on Bitcoin exchanges and ICOs, China's state TV recently said that blockchain could be

ten times more valuable that the internet

. While it may seem that China is falling in line with Mr. Dimon's prediction, it's worth noting that when the latest ban went into effect, business didn't stop, it just moved to places with a more friendly regulatory environment, such as

Switzerland, Japan

and

South Korea

.

In Japan, eleven Bitcoin exchanges are recognized by the

FSA

, and

Bitcoin is legal tender.

This would seem to be at odds with the idea that every government in the world is going to ban Bitcoin.

In the United States, the largest Bitcoin exchange,

Coinbase, is backed by ICE, the parent company of the New York Stock Exchange

and the Federal reserve has said that they

welcome anonymous cryptocurrencies.

Bitcoin is classified as a digital asset and exchanges are regulated and must follow

KYC and AML

. While Bitcoin is not classified as a currency in the US, it certainly isn't illegal. Saying that the government is going to completely ban Bitcoin is pure speculation, and I hardly think that ICE or the Federal reserve share Mr. Dimon's opinion.

Did you know that ICE is even building its own Bitcoin exchange?
When governments move too quickly to ban new technology, the country they represent ends up getting left behind. Coinbase for example, has 20 million users and has traded over 150 billion dollars of cryptocurrencies to date. This kind of economic activity is creating jobs and driving innovation.
Will governments regulate cryptocurrency exchanges? Of course, and they already are.
Will every government in the world ban cryptocurrency outright? I'm not convinced it's going to happen, especially with what we're seeing in the US and Japan so far.
Final thoughts on J.P. Morgan
Mr. Dimon's comments would make more sense if they were, I don't know, maybe trying to patent Bitcoin's technology and make their own version. But, that would be kind of unethical, don't you think? I guess it's not really surprising since J.P. Morgan (JPM) has been fined more than 29 billion dollars for abusing the market since the year 2000. But, Bitcoin is the fraud?
Bitcoin value is based on nothing but FOMO?
I think people forget that Bitcoin is not some magical beast that lives in isolation. It's a network with many stakeholders and it represents something different to each group. Bitcoin has created an ecosystem that includes Bitcoin Miners, Software Engineers, Exchanges, Cloud infrastructure like Blockchian as a Service, Merchants, Users, and of course, the speculators and the scammers.
Let's look at some data.
FOMO or subject of scholarly research?
If Bitcoin was just FOMO, then surely academic interest in the subject would be small, and certainly not growing over time. What's the big deal after all?
| | |
| --- | --- |
| Year | Number of Scholarly Articles Mentioning "Bitcoin" |
| 2012 | 1,040 |
| 2013 | 2,030 |
| 2014 | 4,080 |
| 2015 | 4,640 |
| 2016 | 5,860 |
| 2017 | 9,990 |
Data Source: Google Scholar
FOMO or a life raft for those living in oppressive regimes?
If Bitcoin was just speculation, surely the countries with the highest search volume for the term "Bitcoin" would be wealthy countries where people are throwing money around, rather than in troubled places where a censorship resistant currency might be of use. As you can see, with the exception Finland in 2012, the interest is overwhelming coming from troubled geographic areas.
| | |
| --- | --- |
| Year | Number one Country by Search Volume for the term "Bitcoin" |
| 2012 | Finland |
| 2013 | Estonia |
| 2014 | Estonia |
| 2015 | Ghana |
| 2016 | Nigeria |
| 2017 | South Africa |
Data Source: Google Trends
FOMO or a source of jobs and innovation?
If Bitcoin was just FOMO, surely it wouldn't be creating jobs, and certainly it wouldn't be one of the fastest growing fields in technology.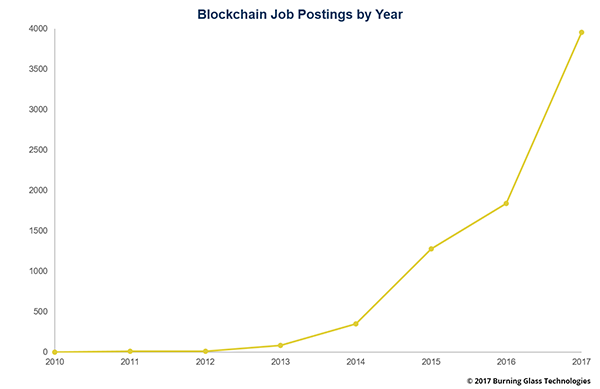 Image Source: Burning Glass
FOMO or the new obsession of Venture Capitalists?
If Bitcoin was just FOMO, then why are VC firms investing more in blockchain startups each year? Maybe some of them are caught up in the craze, but just look at the chart below.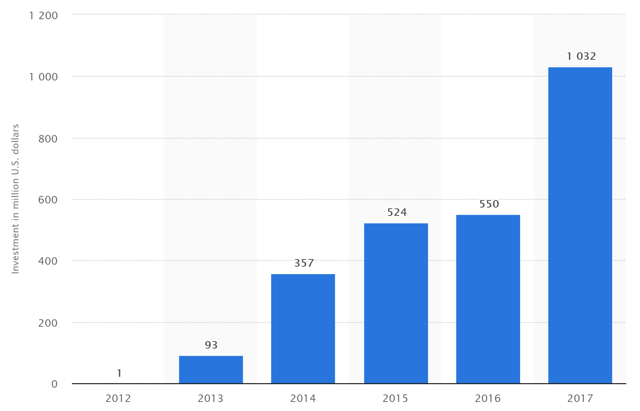 Image Source: Statista
A shared delusion?
To say that Bitcoin has no value is to say that academics (students and professors), governments, venture capitalists, software engineers, hiring managers, and people living in the most troubled areas of the world are completely off their rockers because they dare to challenge our assumptions about what value is and the ways in which it might be transferred.
Is Bitcoin a shared delusion? Sure, but so are lines of latitude and longitude, global time standards, our existing money system, right and wrong, cultural norms, beauty, art and hope. The more important question is, does this shared delusion give us something back? Do we gain something by believing in it?
For me, the answer is clear. I think Bitcoin is one of the most powerful forces for the rights of the individual. I think Bitcoin can at once weaken the oppressors of the downtrodden and create opportunity for the bold.
Conclusion
It may challenge our assumptions that money might come from the crowd, rather than from on high. But, maybe this time it's up to us to save ourselves? Ask yourself what it might mean to live in a world where currencies exist that reach the entire globe and yet don't require the backing of a military. I don't know for sure what it means, but I've decided to follow this path and find out for myself, rather than relying on the old guard to hand down truth to me.
Source: Hans Hauge | Seeking Alpha
***