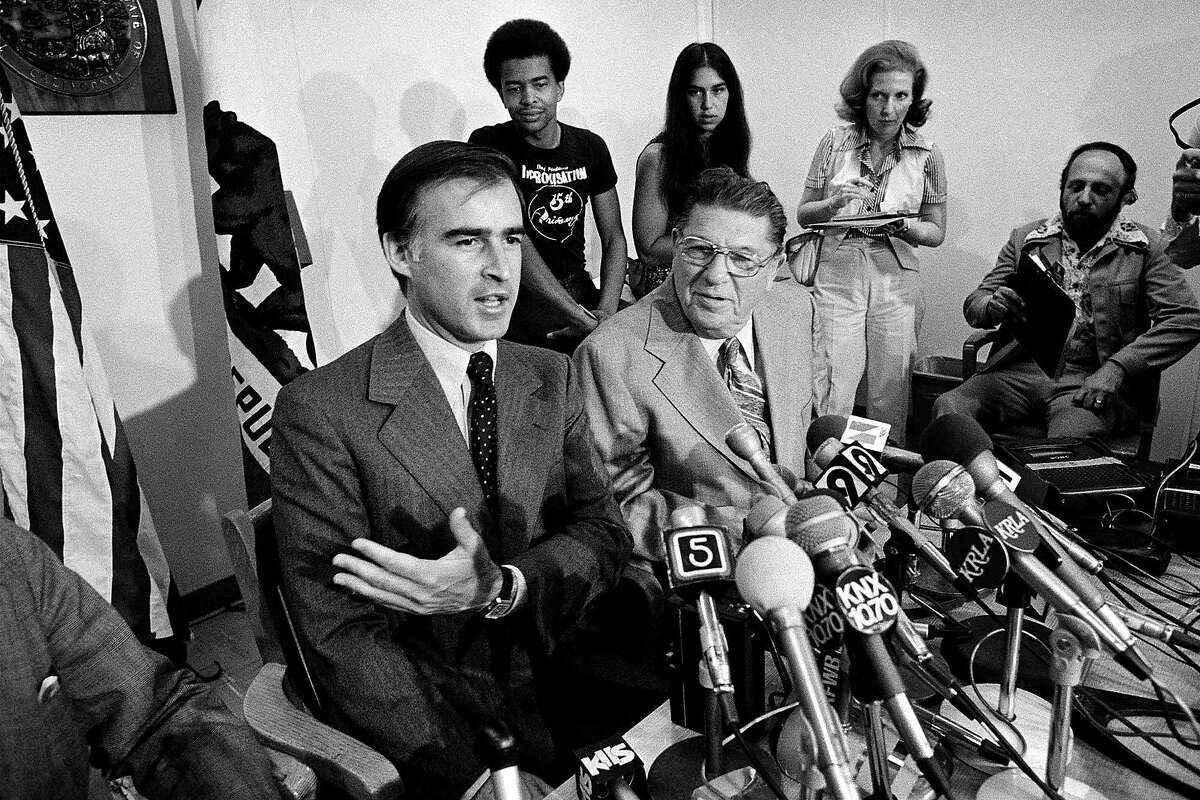 Gov. Jerry Brown, left, with Proposition 13 co-author Howard Jarvis at a news conference in July 1978, one month after California voters passed the measure. Photo: ROBBINS / AP
Proposition 13 Is Untouchable.
(San Francisco Chronicle) That's been the thinking for 40 years in California. Politicians have feared for their careers if they dared suggest changes to the measure that capped property taxes, took a scythe to government spending and spawned anti-tax initiatives across the country.
However, that is beginning to change. With Republican influence in California on the wane and ascendant Democrats making tax fairness an issue, advocates are confident that the time is right to take a run at some legacies of the 1978 measure.
High on their list: making businesses pay more and ending a sweetheart deal for people who inherit homes and their low tax bills, then turn a profit by renting them out.
Legislative Democrats hold so many seats that they don't have to worry about the GOP blocking such ideas from going before voters. Gov.-elect Gavin Newsom has said that "everything would be on the table," including Prop. 13, as he formulates a plan to reform the state's tax structure.
Perhaps most important, Prop. 13's age is becoming an advantage to would-be reformers: California's voting demography is changing. The generation of homeowners that grew up with Prop. 13 is well into retirement now, and some younger Californians blame flaws in the measure for everything from the under funding of public schools to growing wealth inequality.
"For Californians who grew up in the public education system that came after Prop. 13, their education was robbed from them. They didn't get the same education their parents did," said Catherine Bracy, executive director of TechEquity Collaborative, which is trying to rally the tech community to support changes to the state's tax structure.
Bracy, 38, moved to the state six years ago from Chicago. "For newcomers (to California) like me, who were born after Prop. 13, we want to experience the California dream, too," she said. "But we don't have the opportunity to, because all the goodies have been locked up by the older generations."
Prop. 13 was a remedy for a side-effect of one of California's first housing bubbles — spiking property taxes. Moved by their own tax bills and horror stories of longtime homeowners being forced to sell because of skyrocketing assessments, voters overwhelmingly passed the measure. It rolled back assessments for homes and businesses to 1976 levels and capped annual tax increases at 2 percent.
Jon Coupal is president of Prop. 13's fiercest defender — the Howard Jarvis Taxpayers Association, named after the initiative's co-author. He agreed that "the number of homeowners who were around in 1978 is shrinking. And many younger people don't remember the fear and anger about losing your home."
But Coupal said that "notwithstanding the leftward movement of politics in California," his organization's internal polling shows support for Prop. 13 remains strong. And a survey in March by a nonpartisan group unaffiliated with Coupal's organization, the Public Policy Institute of California, found that 65 percent of likely voters surveyed said Prop. 13 "turned out to be mostly a good thing for the state."
Under Prop. 13, residential and commercial property alike is reassessed only when it is sold. But while homes often change hands every few years, many large businesses remain in the same ownership for a long time. Some businesses are paying property taxes based on assessments that haven't changed in 40 years.
That's one main target of people who want to tweak Prop. 13. The League of Women Voters of California says it has gathered enough signatures for a 2020 ballot measure that would create a so-called split roll system, under which businesses' property would be reassessed every three years. Agricultural land and businesses with 50 or fewer employees would be exempt. Residential property would not be affected.
The change could raise $11 billion in tax revenue statewide, including $2.4 billion for Alameda, Contra Costa, Marin, San Francisco and San Mateo counties, according to a January study by the USC Program for Environmental and Regional Equity. The study found that 56 percent of all Bay Area commercial properties had not been reassessed for 20 years, and 22 percent had assessments dating back to the 1970s.
Could a split-roll measure pass? It might be close. Forty-six percent of likely voters surveyed by the Public Policy Institute of California in January said they supported the idea, while 43 percent were against it. Support was far higher among likely voters under 35 (57 percent) than with those over 55 (41 percent).
However, the split-roll concept has actually been growing less popular over the years, the institute said: Six years ago, 60 percent of likely voters backed it.
Helen Hutchison, president of the League of Women Voters of California, acknowledged that changing the law will be difficult because "Prop. 13 still has some kind of magical pull. But we think the time is right to do this."
So does state Sen. Jerry Hill, D-San Mateo. He has introduced a ballot initiative that would tweak a different part of Prop. 13's legacy.
Hill's proposal, Senate Constitutional Amendment 3, takes aim at Proposition 58, which voters approved in 1986. The measure allowed parents to give their residential property to their heirs without triggering a tax reassessment. The intent of the measure was to insulate children from absorbing a huge spike in property taxes and help them stay in the family home. California is the only state to offer this tax break.
Hill proposed the change after learning that many heirs are using their inherited properties as second homes or renting them out for many times more than what they're paying in Prop. 13-controlled property taxes.
The proposed ballot measure would require people who inherit property in this way to move into the home within a year if they wanted the property tax break. The change would apply to future heirs, not those who have already inherited homes.
Getting this measure on the ballot in 2020 requires Hill to corral a two-thirds majority from both houses of the Legislature. If it makes it to the ballot, it could be passed by a simple majority of voters.
Hill is mindful of the politics around property taxes.
"We're not touching Prop. 13. We're touching Prop. 58," Hill said. "The goal is to get people to pay their fair share."
Coupal, head of the Howard Jarvis Taxpayers Association, doesn't think Hill's measure is the biggest threat to Californians concerned about taxes.