Well, with everyone and everything else getting a bailout, may as well go all the way.
(Got enough water, food, tools, ammo, silver and gold?)
Two months after ZeroHedge reported that the state of California is trying to turn centuries of finance on its head by allowing businesses to walk away from commercial leases – in other words to make commercial debt non-recourse – a move the California Business Properties Association said "could cause a financial collapse", attempts to bail out commercial lenders have reached the Federal level, with the WSJ reporting that lawmakers have introduced a bill to provide cash to struggling hotels and shopping centers that weren't able to pause mortgage payments after the coronavirus (plandemic) shut down the U.S. economy.
The bill would set up a government-backed funding vehicle which companies could tap to stay current on their mortgages. It is meant in particular to help those who borrowed in the $550 billion CMBS market in which mortgages are re-packaged into bonds and sold to Wall Street.
What it really represents, is a bailout of the only group of borrowers that had so far not found access to the Fed's various generous rescue facilities: and that's where Congress comes in.
To be sure, the commercial real estate market is imploding, and as ZeroHedge reported at the start of the month, some 10% of loans in commercial mortgage-backed securities were 30 or more days delinquent at the end of June, including nearly a quarter of loans tied to the hard-hit hotel industry, according to Trepp LLC.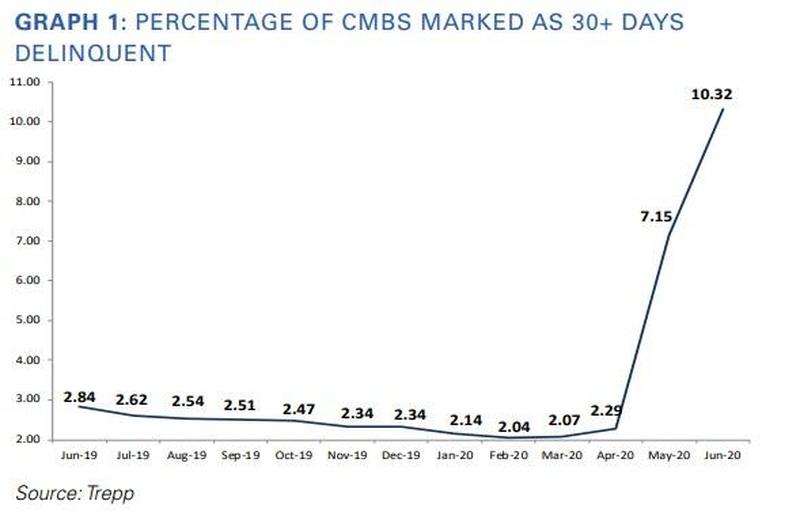 "The numbers are getting more dire and the projections are getting more stern," said Rep. Van Taylor (R., Texas), who is sponsoring the bill alongside Rep. Al Lawson (D., Fla.).
Under the proposal, banks would extend money to help these borrowers and the facility would provide a Treasury Department guarantee that banks are repaid. The funding would come from a $454 billion pot set aside for distressed businesses in the earlier stimulus bill.
Richard Pietrafesa owns three hotels on the East Coast that were financed with CMBS loans. They have recently had occupancy of around 50% or less, which doesn't bring in enough revenue to make mortgage payments, he said.

He said he is now two months behind on payments for one of his properties, a Fairfield Inn & Suites in Charleston, S.C. He has money set aside in a separate reserve, he said, but his special servicer hasn't allowed him to access it to make debt payments.

"It's like a debtor's prison," Mr. Pietrafesa said.
Those magic words, it would appear, is all one needs to say these days to get a government and/or Fed-sanctioned bailout. Because in a world taken over by zombies, failure is no longer an option.
While any struggling commercial borrower that was previously in good financial standing would be eligible to apply for funds to cover mortgage payments, the facility is designed specifically for CMBS borrowers.
It gets better, because not only are taxpayers ultimately on the hook via the various Fed-Treasury JVs that will fund these programs, but the new money will by default be junior to existing insolvent debt. As the Journal explains, "many of these borrowers have provisions in their initial loan documents that forbid them from taking on more debt without additional approval from their servicers. The proposed facility would instead structure the cash infusions as preferred equity, which isn't subject to the debt restrictions."
Yes, it's also means that the new capital is JUNIOR to the debt, which means that if there is another economic downturn, the taxpayer funds get wiped out first while the pre-existing debt – the debt which was un-reapayble to begin with – will remain on the books!
Perhaps sensing the shitstorm that this proposal would create, the WSJ admits that "the preferred equity would be considered junior to other debt but must be repaid with interest before the property owner can pull money out of the business."
What was left completely unsaid is that the existing impaired CMBS debt will instantly become money good thanks to the junior capital infusion from – drumroll – idiot taxpayers who won't even understand what is going on.
How did this ridiculously audacious proposal come to being? Well, Taylor led a bipartisan group of more than 100 lawmakers who last month signed a letter asking the Federal Reserve and Treasury to come up with a solution for the CMBS issues. Treasury Secretary Steven Mnuchin and Fed Chairman Jerome Powell have indicated that this may be an issue best addressed by Congress.
In other words, while the Fed will be providing the special purpose bailout vehicle, it is ultimately a decision for Congress whether to bail out thousands of insolvent hotels and malls.
And if some in the industry have warned that an attempt to rescue the CMBS market would disproportionately benefit a handful of large real-estate owners, rather than small-business owners, it is because they are precisely right: roughly 80% of CMBS debt is held by a handful of funds who will be the ultimate beneficiaries of this unprecedented bailout; funds which have spent a lot of money lobbying Messrs Taylor and Lawson.
Of course, none of this will be revealed and instead the talking points will focus on reaching the dumbest common denominator. Taylor said the legislation is focused on – what else – saving jobs. What he didn't say is that each job that is saved will end up getting lost just months later, and meanwhile it will cost millions of dollars "per job" just to make sure that the billionaires who hold the CMBS debt – such as Tom Barrack who recently urged a margin call moratorium in the CMBS market – come out whole.
"This started with employees in my district calling and saying 'I lost my job'," Taylor said, clearly hoping that he is dealing with absolute idiots.
And while it is unclear if this bill will pass – at this point there is literally money flying out of helicopters and the US deficit is exploding by hundreds of billions every month so who really gives a shit if a few more billionaires are bailed out by taxpayers – should this happen, well readers may want to close out the trade we called the "The Next Big Short", namely CMBX 9, whose outlier exposure to hotels which had emerged as the most impacted sector from the pandemic.
Alternatively, those who wish to piggyback on this latest egregious abuse of taxpayer funds, this crucifxion of capitalism and latest glorification of moral hazard, and make some cash in the process should do the opposite of the "Next Big Short" and buy up the BBB- (or any other deeply impaired) tranche of the CMBX Series 9, which will quickly soar to par if this bailout is ever voted through.