Well, you have to laugh really. Amid the greatest economic contraction in US history, rising social unrest, ongoing extreme unemployment, and demands for further trillions in handouts from the government (or the world will come to an end), there is one group that is 'loving it'!
According to the National Association of Home Builders, home builder sentiment has surged to a new record high at 85 in October…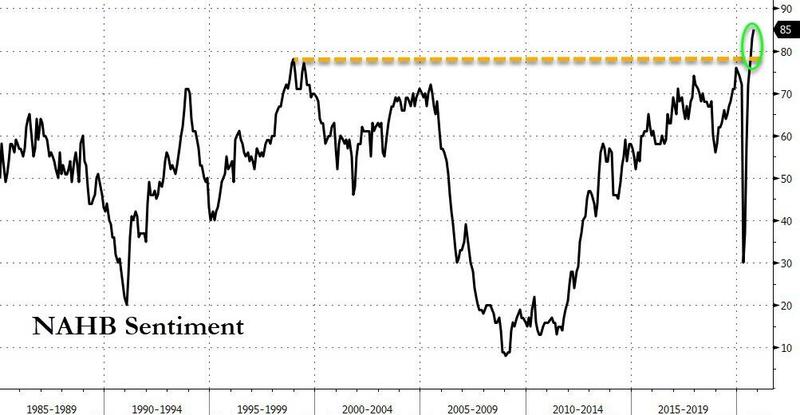 The October reading was stronger than the expected 83, and marked the sixth straight month builder sentiment has exceeded the consensus estimate.
By region, builder sentiment in the West and Northeast rose to the highest levels on record, while confidence eased in the South and Midwest.
The NAHB's gauge of current single-family home sales rose by 2 points to a record 90 in October, while a measure of the outlook for purchases climbed 3 points to an all-time high of 88. The group's index of prospective buyer traffic held at 74.
"The concept of 'home' has taken on renewed importance for work, study and other purposes in the Covid era," Chuck Fowke, chairman of NAHB, said in a statement.

"However, it is becoming increasingly challenging to build affordable homes as shortages of lots, labor, lumber and other key building materials are lengthening construction times."
Home buyer sentiment has rebounded but remains drastically below previous peak levels…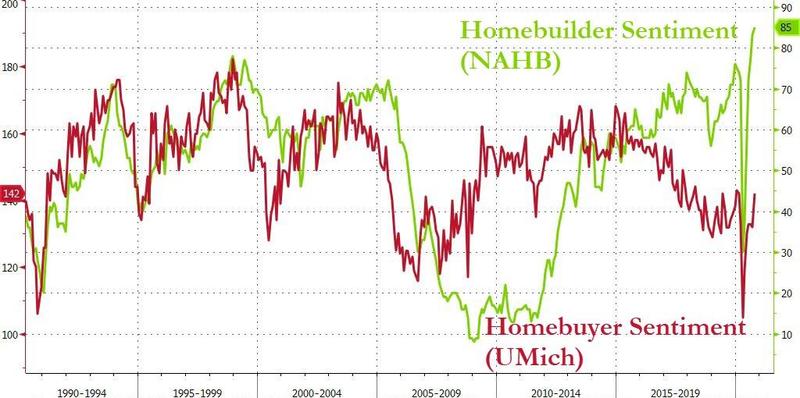 Does make one wonder…maybe we should have pandemics (and riots) more often?