(Chris Menahan) The Biden regime has signed off on new plans to conduct COVID-19 vaccine trials on infants and newborns — even though the CDC's own data shows they face virtually zero risk of death from the virus.
The CDC's data shows young people aged 0-19 have a 99.997% survival rate.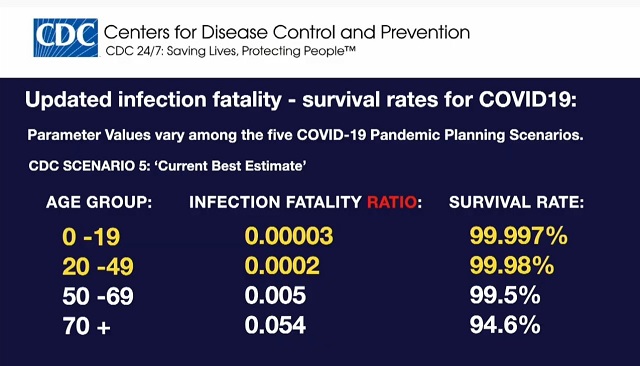 From The New York Times, "Johnson & Johnson has planned trials of its vaccine that will include infants":
Johnson & Johnson plans to test its coronavirus vaccine in infants and even in newborns, as well as in pregnant women and in people who have compromised immune systems.

The bold plan for expanded clinical trials met with the approval of Dr. Ofer Levy, director of the Precision Vaccines Program at Harvard's Boston Children's Hospital and a member of the Food and Drug Administration advisory committee that reviewed the company's vaccine data.
When Dr. Levy saw the outlines of the planned trials, "they turned my head," he said. They were reported as part of the company's application to the F.D.A. for emergency use approval and discussed at the F.D.A. meeting.

"They did not get into a lot of detail about it but did make it clear they will be pursuing pediatric and maternal coronavirus immunization studies," Dr. Levy said. They referred committee members to their briefing materials where, on page 34, the company mentioned the planned studies.
Children's Health Defense has more on the vaccine:
Rather than use the messenger RNA (mRNA) technology being deployed for the first time in the Pfizer and Moderna injections, J&J's vaccine (made by the company's Janssen Pharmaceuticals subsidiary) features a genetically engineered "viral vector" design reliant on a weakened common-cold virus called adenovirus 26.

Adenovirus vaccines have a lengthy history of use in the U.S. military, but the FDA's emergency green light for J&J's COVID injection represents the first time the agency has authorized an adenovirus-vectored vaccine for civilian use.

Last summer, J&J obtained European approval for an Ebola vaccine using the vector technology. Oxford-AstraZeneca and CanSino Biologics have adopted a similar approach for their COVID-19 vaccines, though with different adenoviral vectors.

As J&J describes them, adenoviruses are "good for transporting things into humans." In the case of the COVID vaccine, the aim is to shuttle genetic instructions — DNA coding for the coronavirus spike protein — into the cells and force the cells to make spike protein. In theory, these "self-made spike proteins" are then supposed to train the body to "detect and terminate any real SARS-CoV-2 infections before the virus wreaks havoc."

Although the mode of delivery is different from the lipid nanoparticles (what CNN describes as "delicate little balls of fat") that function as a carrier system for the Pfizer and Moderna mRNA vaccines, all three FDA-authorized COVID vaccines share the same novel goal of getting the body to manufacture spike protein — a goal that represents a radical departure from traditional vaccines.

A University of Tennessee microbiologist told Knox News that J&J's approach is immunologically powerful, stating that the modified adenovirus vector is "about as subtle as a wrecking ball" and "very visible to the immune system."

According to a May 2020 article in Chemical & Engineering News, the adenovirus approach — with 30 years of study behind it — has a "checkered past," including as a "failed gene therapy."

Undaunted by adenoviral vectors' ability to generate dramatic and even fatal inflammatory effects, vaccine researchers embraced the strategy, only to discover that booster shots might "unleash an antibody attack on the vaccine itself."

In 2007, Merck encountered yet another problem when it conducted clinical trials for an adenoviral-vectored HIV vaccine that, paradoxically, increased the risk of HIV infection in a subset of recipients — a cautionary tale that "put a big kibosh on adenoviruses" for some years thereafter.
This is elective medical experimentation on infants and newborns approved under an "emergency use authorization" for a non-emergency.
Johnson & Johnson's own data shows their vaccine is at best 72% effective in America and only 57% effective in South Africa, where a different strain is spreading.
Source: by Chris Menahan | Information Liberation
***
Must Watch: Top Medical Inventor: COVID mRNA "Vaccine" Not A Vaccine
***