The Ford Motor Company has reportedly shifted a $900 million investment for an Avon Lake, Ohio assembly plant towards a site in Mexico, according to the United Auto Workers (UAW) union.
Why didn't Ford try this last year?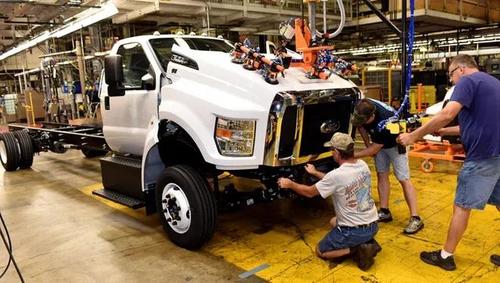 According to a letter sent to Ohio Assembly Plant (OHAP) employees, where around 1,740 Ford workers manufacture F-650 and F-750 medium duty trucks, UAW official Gerald Kariem claims the company had committed to investing $900 million into the project in 2019, according to Breitbart.
The massive investment, Kariem wrote to workers, included a Ford commitment to bring a "next-generation product" to the Ohio Assembly Plant for production by 2023 and an "exciting vision for the complete revitalization" of the plant to secure "employment well into the foreseeable future."

"These contractual commitments were an enormous win for the UAW, for the great state of Ohio, the community of Avon Lake, and most importantly the members of Local 2000," Kariem wrote.
"Great way to alienate even more F-150 buyers in the U.S. Not so good for Ford optics in media and public," one Ford employee wrote at TheLayoff. Another commenter wrote: "Not sure why this is such a surprise. They have been sending high pay supporting white collar jobs from engineering & purchasing for 3 years all with the goal to move production to MX. Quite frankly, at the rate they are going, not sure who they think will be in the new Dearborn campus. They are planning and staffing a huge tech campus in MX."
That said, some blamed the UAW – with yet another commenter writing: "If the UAW aka 'U ain't working' wasn't so greedy and demanding every handout from the company or go on strike this doesn't surprise me."
According to the UAW, Ford executives are backing out of the commitment and will divert the funds to Mexico.
Unfortunately, Ford Motor Company has decided it will not honor its promise to add a new product to OHAP and, instead, it intends to build the next-generation vehicle in Mexico. Ford management expects us to just hang our heads and accept the decision. But let me be clear, we are making a different choice. We 100 percent reject the company's decision to put corporate greed and more potential profits over American jobs and the future of our members. We expect the company to honor its contractual commitments to this membership and when it fails to do so we will take action. [Emphasis added via Breitbart]
The UAW has asked ford executives to explain their decision according to the report.
Total BS. If companies want access to American markets they should hire American workers. https://t.co/e3HHSogIAN

— J.D. Vance (@JDVance1) March 18, 2021
As noted in the report, Ford now has more plants outside the United States than it does domestically. CEO Jim Hackett, meanwhile, made approximately $17.4 million in 2019.