Following the unexpected plunge in new- and existing-home sales, analysts expected a 3.0% MoM drop in pending home sales to round out the dismal housing data in February. Instead – mimicking the huge drops in other segments of the housing market, pending home sales crashed 10.6% MoM (the biggest drop since April). Worse still, pending home prices are now back down 2.7% YoY…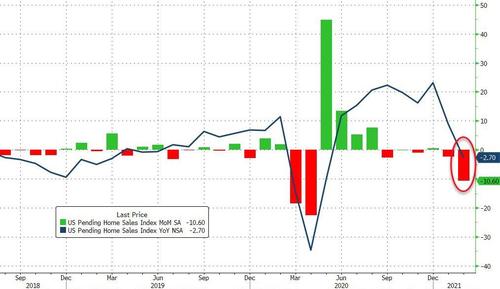 That completes the triple whammy of collapse in the home sales market…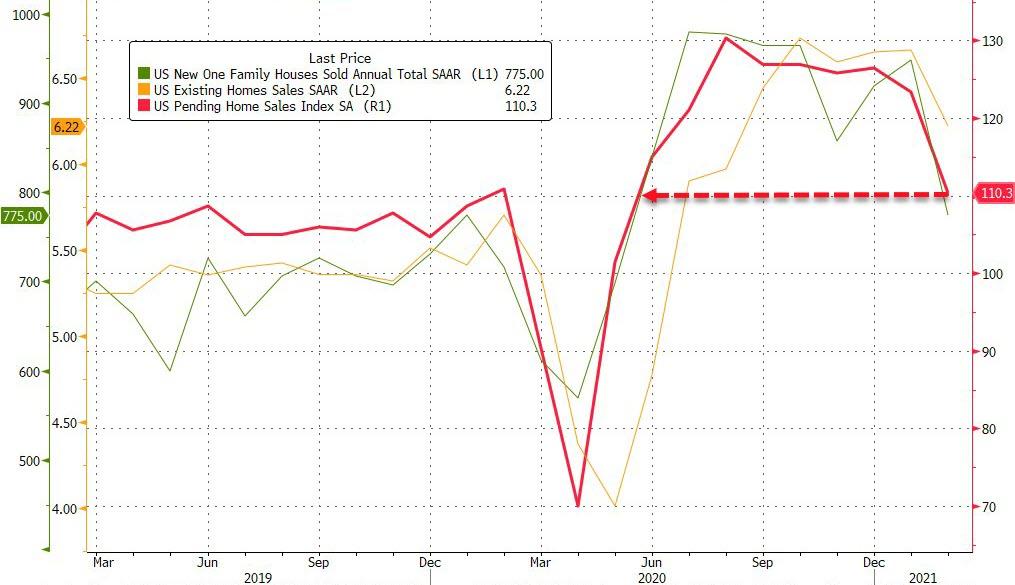 Source: Bloomberg
Surging home prices and low inventory are slowing the pandemic-era housing boom, evidenced by declines in contract signings in all four U.S. regions.
By region, contract signings fell the most in the South, where winter storms curtailed business activity and led to a 13% slump in pending home sales. In the Midwest, sales declined 9.5% and in the Northeast they fell 9.2%. In the West, they decreased 7.4%
In addition, severe winter weather limited purchases during February. At the same time the average rate for a 30-year fixed-rate mortgage has been increasing, which may affect buyer demand in the coming months. Contract signings were down 2.7% from the same period in 2020 on an unadjusted basis.
"The demand for a home purchase is widespread, multiple offers are prevalent, and days-on-market are swift but contracts are not clicking due to record-low inventory," Lawrence Yun, chief economist at the NAR, said in a statement.
As Wolf Richter details in his latest report at WolfStreet.com, we suspect that these are the first signs that higher mortgage rates are impacting the housing market.
Mortgage refis have dropped since January, driven by a sharp drop in no-cash-out refis; cash-out refis have also dropped, but less so, for a reason we'll get to in a moment. This chart shows the Mortgage Bankers Association's mortgage refi index: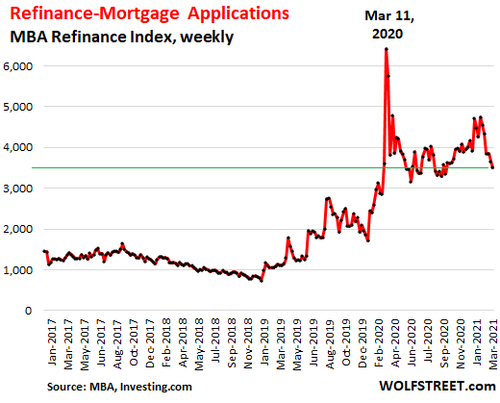 No-cash out refis "are already seeing large volume declines," according to a report by the AEI Housing Center, which pointed out that due to the higher rates, fewer loans are "in the money."
Cash-out refis are also down but only modestly, "as these borrowers are driven more by cash needs than rates," the AEI report said.
The chart by the AEI Housing Center shows the weekly no-cash-out refis in 2021 (light-blue line, left scale) heading south, and in 2020 (brown line); it also shows the median mortgage rate in 2021 (dark blue line). The time line indicates the weeks of the year: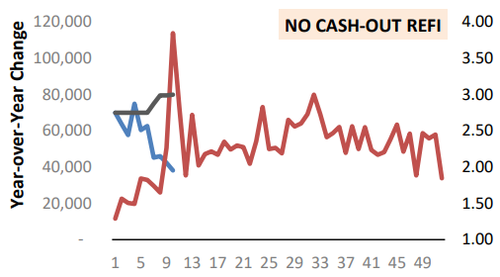 The AEI's weekly Home Price Appreciation index, while still up a massive 14% year-over-year, has started to back off tad: at one point in early February, it was up over 17% year-over-year.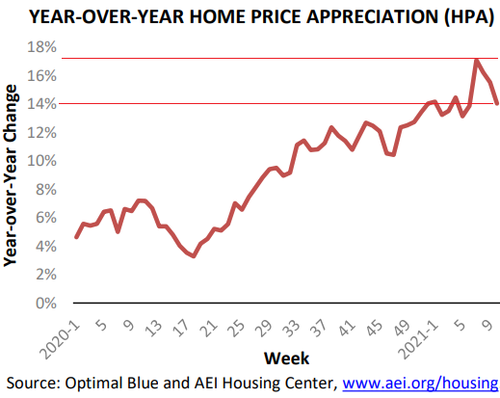 The "decreased buying power" due to the rising interest rates is "already having a limited effect in slowing HPA," The AEI said. "The somewhat lower HPA in week 10 of 2021 looks to be the first sign of this trend."
But the AEI added that "a loan rate of 4% might, due to severe supply constraints, still result in an unsustainable HPA rate of 8%-11%."
Mortgage applications for the purchase of a home have also declined from the peak in mid-January: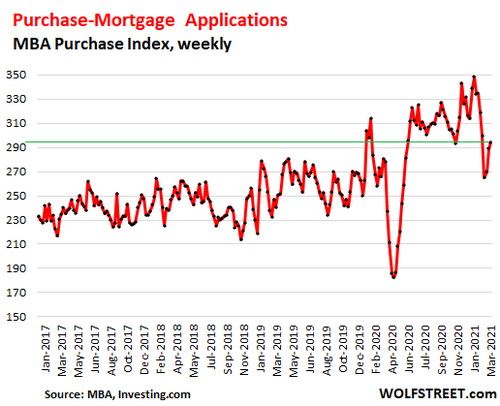 So it seems from this weekly data that the housing market remains red-hot, but the higher mortgage rates, which remain ultra-low by historical measures, have already started dialing down the heat.