Following the explosive surge in producer prices, analysts expected a similar jump in consumer prices and were not disappointed as headline CPI jumped 0.6% MoM (+0.5% exp) and 2.6% YoY (+2.5% exp).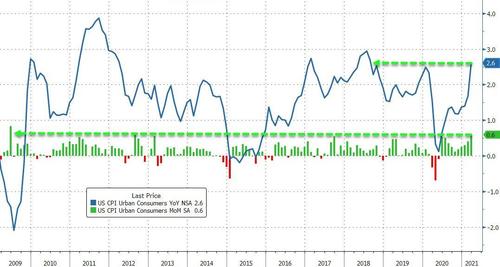 This is the biggest MoM jump since June 2009 and biggest YoY jump since Aug 2018, as CPI follows PPI higher.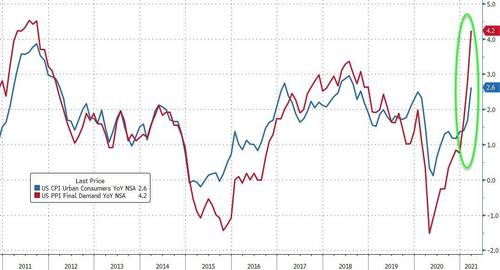 Base effect issues likely dominate the moves as the index for all items less food and energy rose 0.3 percent in March.
The shelter index also rose 0.3 percent in March, with the index for owners' equivalent rent and the index for rent both increasing 0.2 percent. As we hit 1 year anniversary of COVID, shelter inflation actually rebounded from 1.47% YoY in Feb to 1.70% YoY in March, the highest since 2020. Meanwhile, rent inflation continued to fade, and was up 1.83% in March, down from 1.96% in Feb, and the lowest since 2011.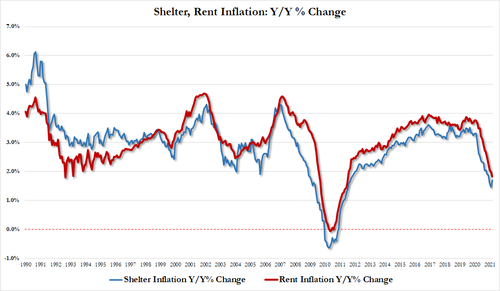 The motor vehicle insurance index increased for the third consecutive month, rising 3.3 percent in March. The index for recreation increased 0.4 percent over the month, as did the index for household furnishings and operations.
The used cars and trucks index also increased in March, rising 0.5 percent, and the index for personal care increased 0.6 percent in March.
Curiously, new car prices flat:
The index for communication and the index for new vehicles were both unchanged in March.
Meanwhile on the downside:
The index for apparel fell 0.3 percent in March, following a 0.7-percent decline the previous month. The education index also declined over the month, falling 0.2 percent.
Full Breakdown below: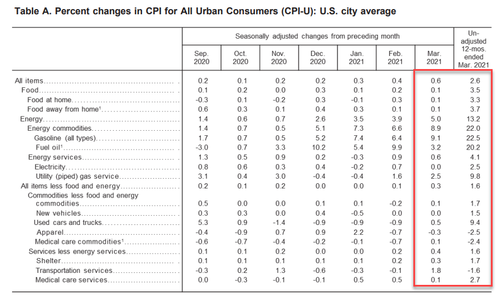 Goods and Services CPIs both accelerated YoY…
The biggest driver of the jump was in the energy sector: The energy index rose 13.2 percent over the past 12 months. The gasoline index rose 22.5 percent over the last 12 months, while the index for natural gas increased 9.8 percent, and the index for electricity rose 2.5 percent over the same period. The fuel oil  index increased 20.2 percent over the last 12 months.
Of course, as Powell continues to jawbone, this is nothing to worry about… as it's just a "transtory" drain on your pocketbook America.
***
Intro ends at 2:45. Plays well at 1.5X.
***