Surging construction costs to build a new home is not sustainable and is becoming a pain in the arse for home builders and prospective home buyers. From concrete to lumber to copper pipes to paint and even appliances, costs have surged over the past year. 

The housing boom sparked by the Federal Reserve during the virus pandemic was built on historically low mortgage rates (thanks to Powell) and accelerated by a combination of record-low inventory as city-dwellers moved to rural areas amid the remote-work phenomenon. 
According to Zillow Group Inc, the past year has been the hottest real estate market since 2007. Economist Robert Shiller, the co-founder of the S&P CoreLogic Case-Shiller home price index, recently told CNBC that "in real terms, home prices have never been so high. My data goes back over 100 years, so this is something." 
Making matters worse is a shortage of materials as there is just too much demand from builders and not enough supplies due to supply chain disruptions. There's also the issue of not enough buildable land. All of this has manifested into dangerous inflationary pressures vibrating not just through the housing market but the entire economy that may force Federal Reserve to announce tapering at Jackson Hole. It wouldn't be surprising if MBS purchases from the Fed would be some of the first to be reduced. 
Bloomberg provides an example of surging housing costs in one of the hottest housing markets in the country: Boise, Idaho.
Steve Martinez, the operator of Tradewinds General Contracting Inc., said his company had to raise costs on some of its new builds to offset high raw material and labor costs. 
Martinez said the sale price of a 3,000 sqft, which excludes the lot but includes costs, labor, and profit, was $746,671 this spring. He said that's 58% higher than two years ago in 2019. These costs are primarily the reason why home prices are surging.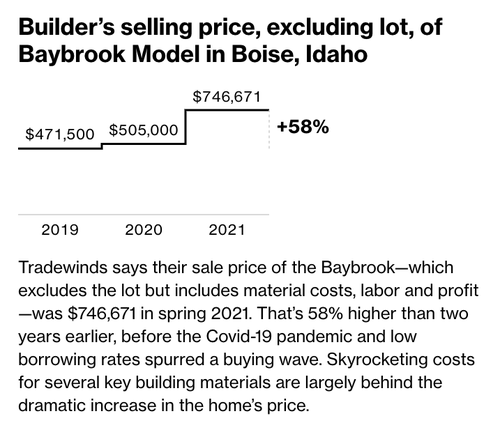 Foundation costs for the builder jumped 104% since 2019.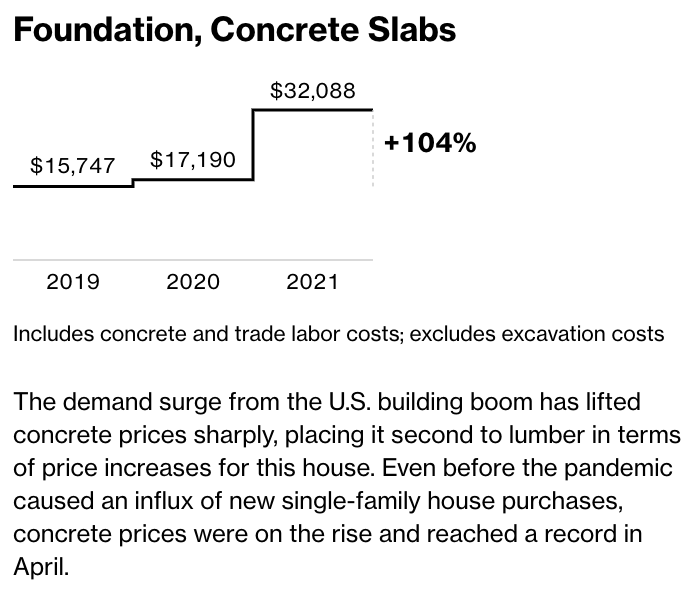 Lumber costs are one of the most significant issues for the builder. Prices have nearly surged 262% since 2019.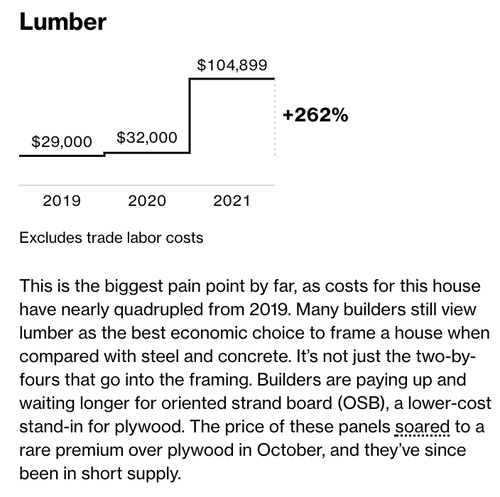 Timber roof trusses to frame a structure to support the roof have more than doubled since pre-pandemic levels.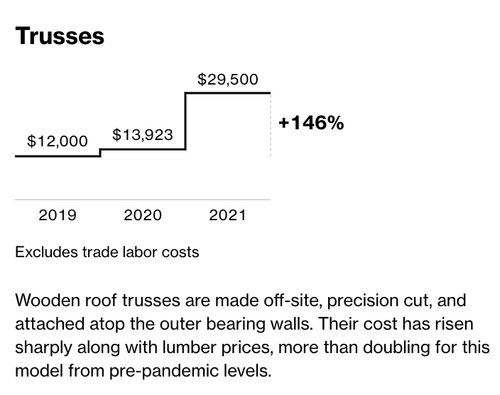 Meanwhile, drywall, used for interior walls and ceilings, has only risen 26% since 2019.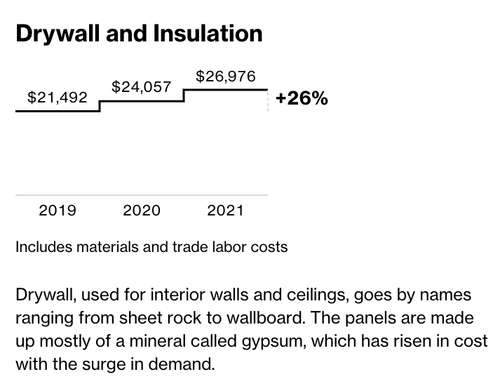 With plastic and base metal prices soaring, plumbing, HVAC, and electrical costs are up 49% since 2019.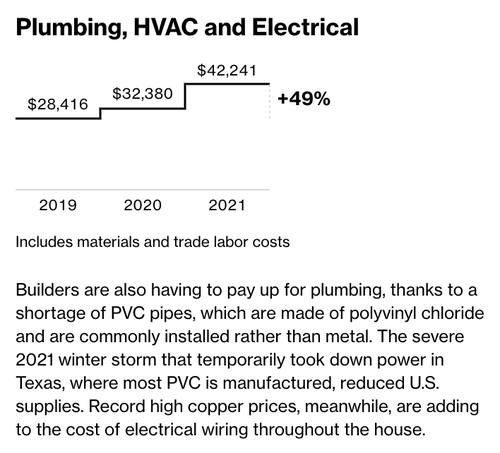 Interior and exterior paint have risen 68% since 2019.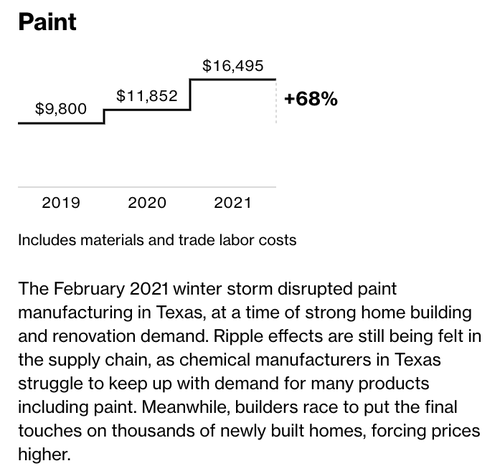 Custom millwork, such as trim around doors, paneling, and cabinetry, has surged 68% since 2019. 
Appliances are up 65% from 2019 levels due to increasing demand and not enough supply. 
Factor this all together, the Boise home buyer purchasing a 3,000 sqft home from the builder is forking over $950,000, up 61% from 2019.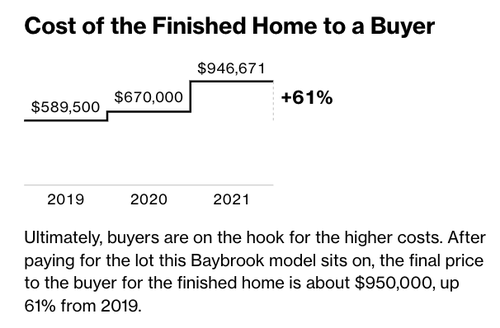 … and here's the final product.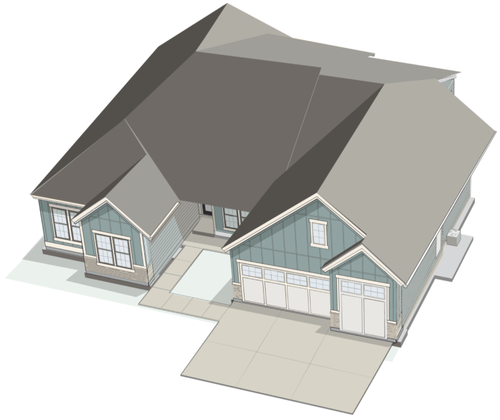 The cost of building a home has rocketed higher in a post-pandemic world that could soon be an industry killer as housing affordability becomes a significant issue. This is why the Fed needs to get a hold of inflationary pressures by unleashing tapering. 
"This could be industry killing if things continue going the way they're going," said Martinez, who has had to tack on price increases during construction of anywhere from $40,000 to $100,000, primarily due to rising lumber costs. "We're putting projects off. We've got clients that are hitting their price ceiling."
Record-high housing prices have already begun to dent home buyer confidence as prices become unaffordable.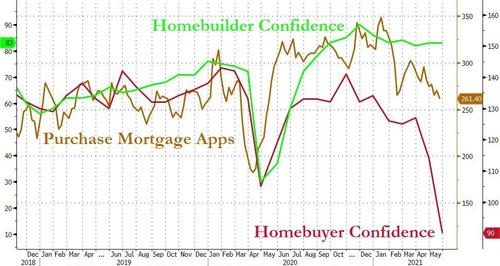 It's time for the Fed to end their grand experiment in juicing the economy and let the price of everything normalize.