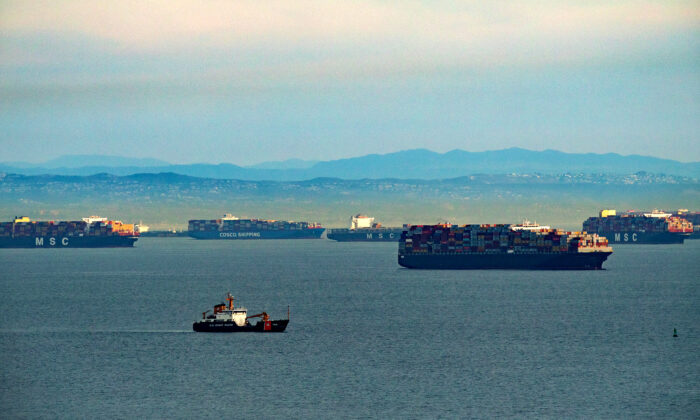 As California's shipping ports congestion persists, Gov. Gavin Newsom issued an executive order on Oct. 20 intended to alleviate the crisis.
The executive order aims to find state-owned land and various other areas to temporarily store goods once they are removed from the port. It also removes weight limits on trucking freight routes to transport more goods.
"California's ports are critical to our local, state and national economies and the state is taking action to support goods movement in the face of global disruptions," Newsom said in a statement on Wednesday. "My administration will continue to work with federal, state, labor and industry partners on innovative solutions to tackle immediate challenges while also bringing our distribution processes into the 21st century."
As this executive order is effective immediately, a United States Merchant Marine Academy adjunct professor questions the efficiency of the governor's plan and its long-term impacts.
"We put off a lot of long-term improvements, and that's why we find ourselves in this situation now," Dr. Sal Mercogliano, told The Epoch Times. "They're desperate to alleviate this but I don't know if it's going to be alleviated."
While the state seeks to exempt weight limits for trucks to carry more items at a faster rate, Mercogliano foresees damaged roads from carrying heavy containers.
With the search for land to store goods in the short-term, finding open space in Los Angeles County becomes increasingly difficult, Mercogliano said.
Cargo that is temporarily stored on land must be in controlled environments where facilities are constantly working to move goods, according to Mercogliano.
As the executive order attempts to address the congestion by loosening restrictions, Mercogliano urged that even more must be considered.
"California needs to lessen their restrictions," he said. "Strict controls in those ports are diminishing the number of goods that are coming in. You have terminals in LA right now that can't bring any ships in because there's no room to put any containers on the ground."
The Port of Los Angeles and Long Beach is the entrance point for 40 percent of all the containers coming into the United States.
Source: by VANESSA SERNA | The Ephoc Times
***
Can California Be Saved? Part One
Shipping Containers From Stranded Ships Abandoned in California Neighborhoods