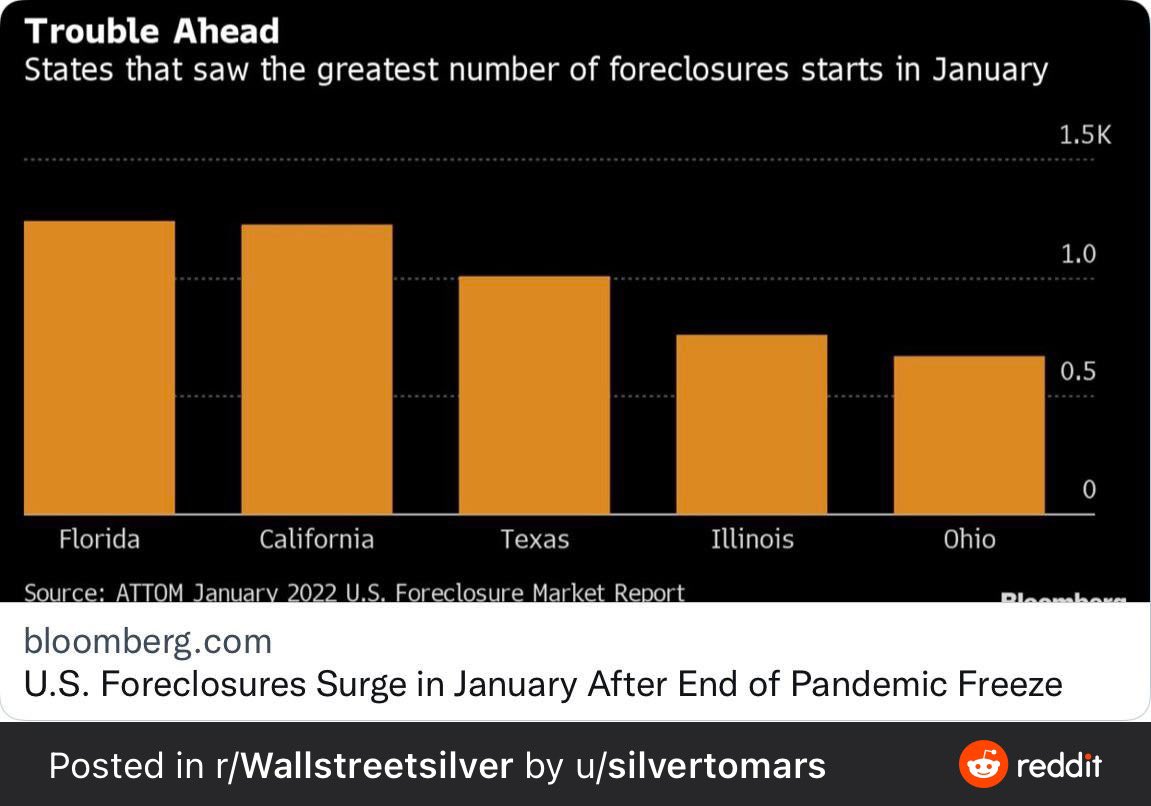 (Alexandre Tanzi) Foreclosures on homes in the U.S. surged in January after a pandemic moratorium ended, though they remained well below pre-Covid levels, according to new data from RealtyTrac. 
Foreclosure filings such as default notices, scheduled auctions or bank repossessions jumped 29% from a month earlier and more than doubled compared with January 2021, the report said. Lenders repossessed 4,784 properties in the month and started the process on another 11,854 homes.
"It's very important to keep these numbers in context," said Rick Sharga, executive vice president of RealtyTrac, a unit of real estate research firm Attom Data Solutions. "Foreclosure completions are still far below normal levels -– less than half as many as in January of 2020 before the pandemic was declared. 
He said that after the end of the moratorium, "we're likely to continue seeing large year-over-year percentage increases for the rest of this year."
Measured against the total number of homes, the state with the highest foreclosure rate is New Jersey, where one in every 2,336 housing units has a filing. Nationwide, the ratio is one in 5,922. Among large cities, the worst foreclosure rates in January were in Detroit, Cleveland and Chicago. 
January is typically a month when foreclosures pick up after a holiday slowdown. This year's rise was amplified by the end of the pandemic freeze. But homeowners have also benefited from a record surge in prices over the past two years, which has rescued more than 1 million borrowers from "underwater" mortgages and made them less vulnerable to foreclosure.
As well as a moratorium on foreclosures, the government's Covid aid program also included measures to help struggling homeowners delay their loan repayments. 
An estimated 7.1 million borrowers — 14% of all mortgage holders — entered into forbearance during the pandemic, though more than two-thirds of them had exited by March 2021, according to Harvard University's latest annual report on the national housing market. 
Source: by Alexandre Tanzi | Bloomberg News
***
All States With An Income Tax Is A Slave State
LA County Fire Capt Dies Of Heart Attack
On Duty – Guess Why
$90 Oil Offers The Best-Ever
Economics For US Shale
Everything Is Exploding Higher Now…
Except The Dollar
LOOK! – Johns Hopkins Confirms You Can
Be Vaccinated With A PCR Swab Test Without
Your Permission Or Knowing It – NO TESTS!
Murdered Govt Whistleblower Phil Schneider
Warned In 1995 About Global Depopulation
Using Engineered Bioweapons, Followed By
Planetary Scale Extermination Of Human Race