The bitcoin price is up roughly 10X over the past two years, so it is understandable why some people believe it is overvalued. If you do a Google search on "Bitcoin Bubble," you will find nearly 700,000 results. People love to proclaim that bitcoin is a bubble, especially those that missed the inflation of said bubble.
But are they correct? Is it too late to get on board the bitcoin rocket?
Only time will tell, but I suspect that the price of bitcoin will climb many multiples higher before reaching a top. We have yet to see a mania phase and in fact, less than 5% of the investing public owns any bitcoin. The vast majority still have no idea what blockchain technology is or how to acquire bitcoin.
The market cap of bitcoin, now that the price has risen to $2,700, is around $45 billion. A decade ago, the term billion meant something. You didn't really hear much talk of trillions. But thanks to our central planners and their lackeys in government, trillions are now the new billions. At any rate, let's take a look at bitcoin's valuation versus other markets in order to put things into perspective: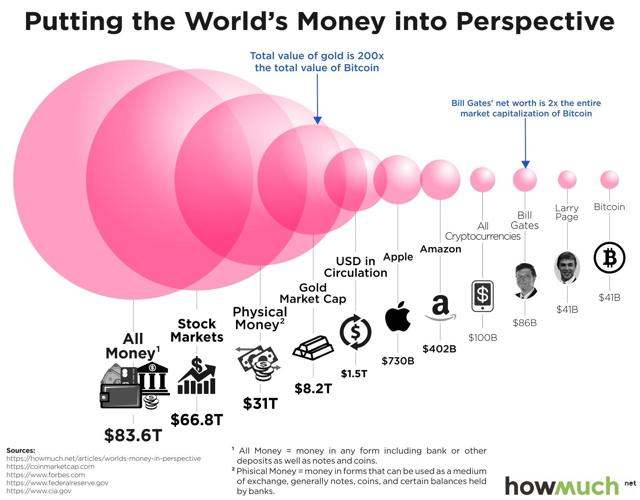 Despite the rapid rise in the bitcoin price, it is still worth no more than the wealth of Google (NASDAQ:GOOG) co-founder Larry Page alone. Bill Gates could buy all of the bitcoin in existence, twice over. The total value of all bitcoin is just 1/10th of Amazon's (NASDAQ:AMZN) market cap or 1/17th of Apple's (NASDAQ:AAPL) market cap.
While the price of a Bitcoin surpasses that of an ounce of gold for the first time earlier this year, the total value of gold is still 200 times the value of bitcoin. Even if we take into account the value of all cryptocurrencies at around $100 billion, Apple is still worth 4 times this number and the gold market is valued at more than 80 times all cryptocurrencies combined!
The total market value of publicly traded shares at stock exchanges around the world is $66.8 trillion. This is nearly 1,500 times the valuation of bitcoin or 670 times the valuation of all cryptocurrencies combined.
When we move into central bank funny money, the total amount of money in the world is $84 trillion, or roughly 800 times the value of all cryptocurrencies in existence. In physical coins and notes, the total global money supply is $31 trillion or 310 times the value of all cryptocurrencies.
So, while the meteoric rise of bitcoin has led to a significant market valuation, it is still small relative to other markets or even relative to the wealth of a single software entrepreneur. What happens when even a small percentage of the $67 trillion invested in stocks or $83.6 trillion in central bank money begins to move into bitcoin and other cryptocurrencies?
This possibility is not nearly as far-fetched as it may seem on the surface. People are losing trust in government/central bank money and other traditional measures of wealth. As this trend accelerates, I believe an increasing amount of money will flow into bitcoin and other cryptocurrencies, pushing their valuations many times higher than today.
Is bitcoin overvalued? Are the cryptocurrency markets in a bubble about to burst?
Nope, not by a long shot. At the very least, I believe these markets need to reach parity with the gold market, which implies an increase in the valuation of cryptocurrencies of at least 80 times the current valuation. That would turn an investment of just $12,500 into $1 million!
So even if you've missed the incredible bull market in cryptocurrencies thus far, I believe there is still plenty of upside ahead. While I continue to hold bitcoin and Ethereum has core positions, I am especially bullish on a number of altcoins that I think will outperform bitcoin by a wide margin over the next 12-24 months.
By Jason Hamlin | Seeking Alpha