Day of Reckoning: Hundreds of thousands of interest-only loan terms expire each year for the next few years.
Every year for the next three years, up to an estimated 200,000 home loans will be moved from low repayments to higher repayments as their interest-only loans expire. The median increase in payments is around $7000 a year, according to the RBA.

What happens if people can't afford the big hike in loan repayments? They may have to sell up, which could see a wave of houses being sold into a falling market. The RBA has been paying careful attention to this because the scale of the issue is potentially enough to send shockwaves through the whole economy.
Interest Only Period
In 2017, the government cracked down hard on interest-only loans. Those loans generally have an interest-only period lasting five years. When it expires, some borrowers would simply roll it over for another five years. Now, however, many will not all be able to, and will instead have to start paying back the loan itself.

That extra repayment is a big increase. Even though the interest rate falls slightly when you start paying off the principal, the extra payment required is substantial.
Loan Payments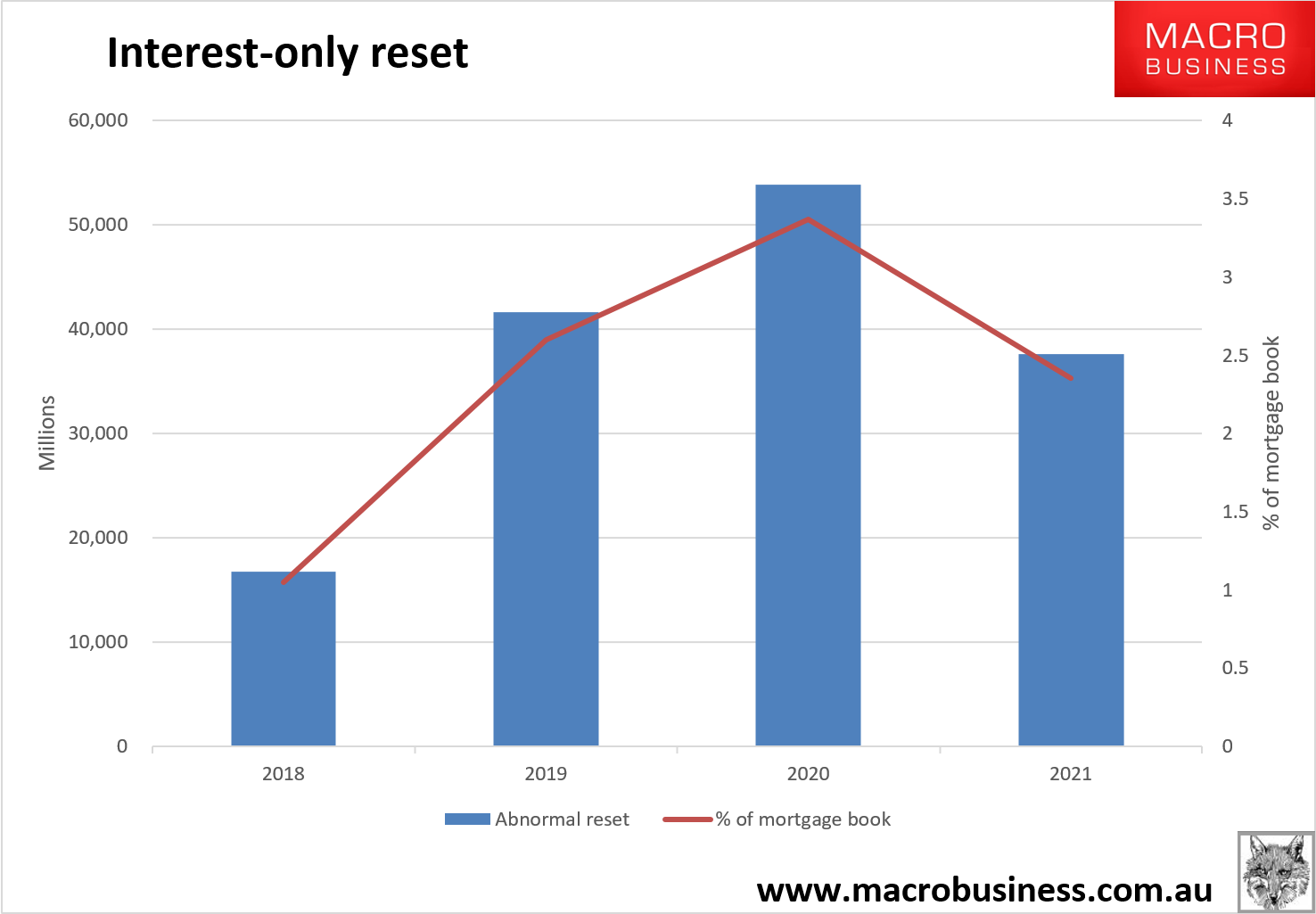 For now, the RBA is unconcerned: "This upper-bound estimate of the effect is relatively modest," the RBA said.
Source: By Mike "Mish" Shedlock
***
Australian Government Rolls Out Universal Reverse Mortgage Plan
The Australian government has proposed a wide-ranging reverse mortgage plan that would make an equity release program available to every senior over the age of 65.
Previously restricted to those who partially participate in the country's social pension program, the government-sponsored plan will extend to any homeowner above the age cutoff, according to a report from Australian housing publication Domain.
Under the terms of the government-sponsored plan, homeowners can receive up to $11,799 each year for the remainder of their lives, essentially taken out of the equity already built up in their homes. Domain gives the example of a 66-year-old who can receive a total of $295,000 during a lifetime that ends at age 91.
As in the United States, older Australians have a significant amount of wealth tied up in their homes; the publication cited research showing that homeowners aged 65 to 74 would likely have to sell their homes in order to realize the $480,000 increase in personal wealth the cohort enjoyed over the previous 12-year span.
In fact, the Australian government last year attempted to encourage aging baby boomers to sell their empty nests to free up the properties for younger families. Under that plan, homeowners 65 and older could get a $300,000 benefit from the government, a powerful incentive in a tough housing market for downsizers — and in a government structure that counts income against seniors when calculating pension amounts.
"Typically, older homeowners have been reluctant to sell for both sentimental and financial reasons," Domain reported last year. "Often selling property is costly, and funds left over after buying a smaller home  could then be considered in the means test."
But the baked-in reverse mortgage benefit represents a shift toward helping seniors age in place instead of downsizing. The Australian government's "More Choices for a Longer Life" plan also expands in-home care access by 14,000 seniors, according to the Financial Review, while boosting funding for elder physical-fitness initiatives and other efforts to reduce isolation among aging Australians.
The reverse mortgage plan will offer interest rates of 5.25%, which Domain noted is less than most banks, and will cost taxpayers about $11 million through 2022. Loan-to-value ratios are calculated to ensure that the loan balance can never exceed the eventual sale price of the home.
Source: By Alex Spanko | Reverse Mortgage Daily
***
Australia Debating Universal Basic Income Plans
Greens leader Richard Di Natale has proposed a radical overhaul of Australia's welfare system through the introduction of a universal basic income scheme, but critics believe this would only increase inequality.
Di Natale gave a speech at the National Press Club on Wednesday, outlining why he thought Australia's current social security system was inadequate.
"With the radical way that the nature of work is changing, along with increasing inequality, our current social security system is outdated," Di Natale said.
"It can't properly support those experiencing underemployment, insecure work and uncertain hours.
"A modern, flexible and responsive safety net would increase their resilience and enable them to make a greater contribution to our community and economy."
To address this, Di Natale called for the introduction of a universal basic income scheme, which he labelled a "bold move towards equality".
"We need a universal basic income. We need a UBI that ensures everyone has access to an adequate level of income, as well as access to universal social services, health, education and housing," he said.
"A UBI is a bold move towards equality. It epitomises a government which looks after its citizens, in contrast to the old parties, who say 'look out for yourselves'. It's about an increased role for government in our rapidly changing world.
"The Greens are the only party proudly arguing for a much stronger role for government. Today's problems require government to be more active and more interventionist, not less."
However Labor's shadow assistant treasurer Andrew Leigh, responded on Twitter that Australia had the most targeted social safety net in the world and that Di Natale's plan would increase inequality.
Leigh was unavailable for comment when contacted by Pro Bono News, but in a speech given at the Crawford School of Public Policy in April last year, he explained why he opposed a UBI.
"As it happens, using social policy to reduce inequality is almost precisely the opposite of the suggestion that Australia adopt a 'universal basic income'," Leigh said.
"Some argue that a universal basic income should be paid for by increasing taxes, rather than by destroying our targeted welfare system. But I'm not sure they've considered how big the increase would need to be.
"Suppose we wanted the universal basic income to be the same amount as the single age pension (currently $23,000, including supplements). That would require an increase in taxes of $17,000 per person, or around 23 percent of GDP. This would make Australia's tax to GDP ratio among the highest in the world."
Liberal Senator Eric Abetz described Di Natale's plan as "economic lunacy".
"Its catastrophic impact would see the biggest taxpayers in Australia, the banking sector, become unprofitable and shut down and his plan for universal taxpayer handouts would see our nation bankrupted in a matter of years," Abetz said.
"This regressive and ultra-socialist approach of less work, higher welfare and killing profitable businesses has been tried and failed around the world and you need only look at the levels of poverty and riots in Venezuela.
"Senator Di Natale must explain… who will pay for this regressive agenda when he runs out of other people's money."
Despite this criticism, welfare groups said they welcomed a conversation on a "decent income for all".                                                                
Dr Cassandra Goldie, the CEO of the Australian Council of Social Service, indicated that a UBI would be discussed among their member organisations.
"We are very glad a decent income for all is being discussed. Too many people lack the income they need to cover even the very basic essentials such as housing, food and the costs of children," Goldie told Pro Bono News.
"We will be discussing basic income options with our member organisations.
"Our social security system has a job to protect people from poverty and help with essential costs and life transitions such as the costs of children and decent housing. It is failing at this. The basic minimum allowance for unemployed people is just $278 per week.
"Budget cuts – including the freezing of family payments – have made matters worse."
Goldie said that working out if a basic income proposal would increase or reduce inequality depended on the detail.
"We don't oppose universal payments on principle, but reform of social security should begin with those who have the least. This must be the first priority," she said.
"The principle that everyone should have access to at least a decent basic income is a good starting point for reform. Let's have that debate."
The convenor of the Anti-Poverty Network SA, Pas Forgione, told Pro Bono News that a UBI would only address inequality if payments were set to an adequate level.
"If universal basic income means that everyone gets the same income that people on Newstart gets, roughly $260 a week, then I don't think that's going to do much to alleviate poverty," Forgione said.
"It needs to be set at an adequate level. And I think that involves looking at what it takes to have a reasonable standard of living and a reasonable quality of life in a country like Australia. So it depends on the details.
"If it is set at an adequate level, than it would be a terrific thing for the quality of life for a number of very low income people. I'm not saying that it's a panacea… but I think you could make a very strong case for looking at a UBI."
Di Natale's speech also called for the creation of a nationalised "People's Bank", to give more people access to affordable banking services and to add "real competition" to the banking sector.
"A people's bank, along with more support for co-operatives and mutuals, would inject some real competition into the banking sector," he said.
"We have a housing crisis that has been created by governments.
"So now is the time for government to step in: through a People's Bank, by ending policies skewed in favour of investors like negative gearing and the capital gains tax discount, and through a massive injection of funds for social and public housing."
Source: By Luke Michael | Probono Australia