President Trump told a crowd of steelworkers in Illinois in July 2018 that "After years of shutdowns and cutbacks today the blast furnace here in Granite City is blazing bright, workers are back on the job and we are once again pouring new American steel into the spine of our country." 
While US Steel's Granite City might be operational for the time being, the steel producer has just announced it will shut down a "significant portion" of its Great Lakes Works facility, slash its dividend, terminate 80% of its share buyback program, and layoff 1,500 workers. 
Great Lakes Works is expected to halt operations by April 2020. The mill rolls slabs into sheets of steel and has been battered by the manufacturing recession and trade war. The facility laid off 200 workers earlier this year, with another 1,500 in the near term, reported 247 Wall Street.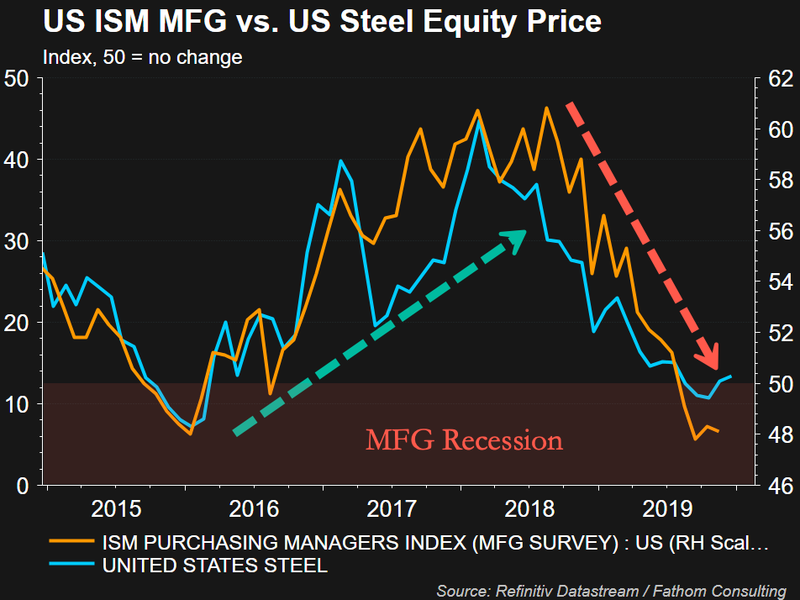 The failed turn around of US Steel comes as the manufacturing recession shows limited signs of abating, forced the company to slash its dividends for 2020 from $.05 per share to $.01. At least 80% of its buyback program will be terminated in early 2020 – a measure to help the struggling steel company avoid bankruptcy. 
The company will refocus its efforts at its Mon Valley Work facility in Pennsylvania, Big River Steel in Arkansas, and another in Gary, Indiana. 
US Steel CEO David Burritt told investors on a call that "Acquiring the remaining stake in Big River Steel continues to be our top strategic priority." 
Burritt also commented on the upcoming Great Lakes Works shutdown:
"[C]urrent market conditions and the long-term outlook for Great Lakes Works made it imperative that we act now, allowing us to better align our resources to deliver cost or capability differentiation across our footprint. Transitioning production currently at Great Lakes Works to Gary Works will enable increased efficiency in the use of our assets, improve our ability to meet our customers' needs for sustainable steel solutions and will help our company get to our future state faster," he said. 
 US Steel has revised fiscal 2019 guidance lower, expects a decrease in spending in 2020. Here are the earnings highlights via Reuters: 
** Shares of steel producer XN drop 5.7% to $12.60 premarket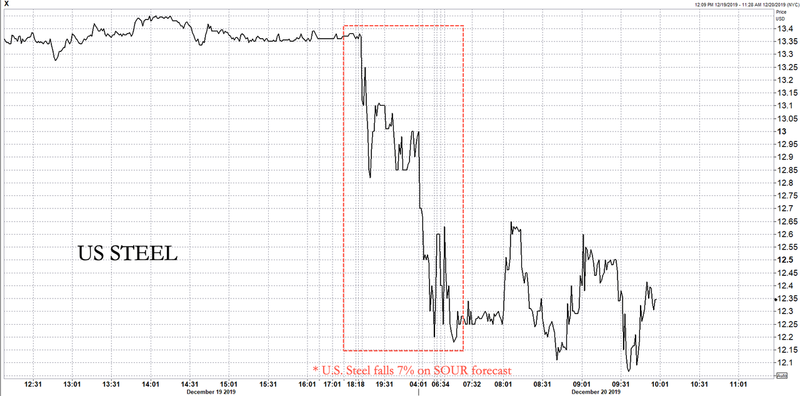 ** Company sees Q4 adj. loss per share at $1.15 compared with analysts expectations of 60 cents
** Cuts its quarterly dividend to $0.01/share from $0.05/share (Full Story)
** Expects Q4 adj. EBITDA to be -$25 mln, which excludes about $225 mln of estimated restructuring and other charges, compared with analysts' EBITDA est. of $83.98 – Refinitiv IBES data
** Company also lowers its 2020 spending forecast to $875 mln from $950 mln
** Says it plans to "indefinitely idle a significant portion" of its operations at its Great Lakes Works facility near Detroit
** Company will issue Worker Adjustment and Retraining Notification Act notices to about 1,545 employees at the facility (Full Story)
** While steel markets in North America are recovering, Europe and Tubular segments remain weak – company
** Up to Thursday's close, stock had fallen ~27% this year compared with ~18% gain in the S&P 400 materials index .SPMDCM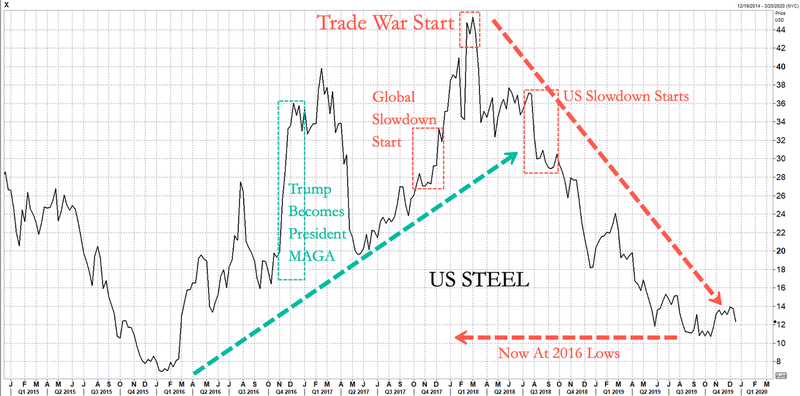 US steel was supposed to get a boost from President Trump's 25% tariff on steel imports, but that has since backfired as steel prices continue to drop, and a manufacturing recession continues to deepen. 
So the question remains, with US Steel shares turning lower into 2020 – does that mean S&P500 priced in a monster rebound in growth that may not happen?  If so, that could mean the Fed's 'Not QE' has helped fueled a blow off top in stocks.