After China's factory inflation surprised to the upside with the hottest print since July 2018, this morning's US producer price data was highly anticipated and expected to surge to multi-year highs.
As ZeroHedge detailed earlier, the data's release was actually delayed – it seems people are actually interested in how much of their dollar's worth is being eaten away?
Can we make Biden's infrastructure plan $1 trillion bigger so the BLS can update its website pic.twitter.com/0qrGdj670R

— zerohedge (@zerohedge) April 9, 2021
As a reminder, over half of the inputs for the consumer price index calculation is estimated (translation: made up), so why not PPI too.
And when it hit it was dramatically hotter than expected, printing up 1.0% MoM (vs +0.5% exp) and a stunning 4.2% rise YoY (+3.8% exp) – the highest since 2011…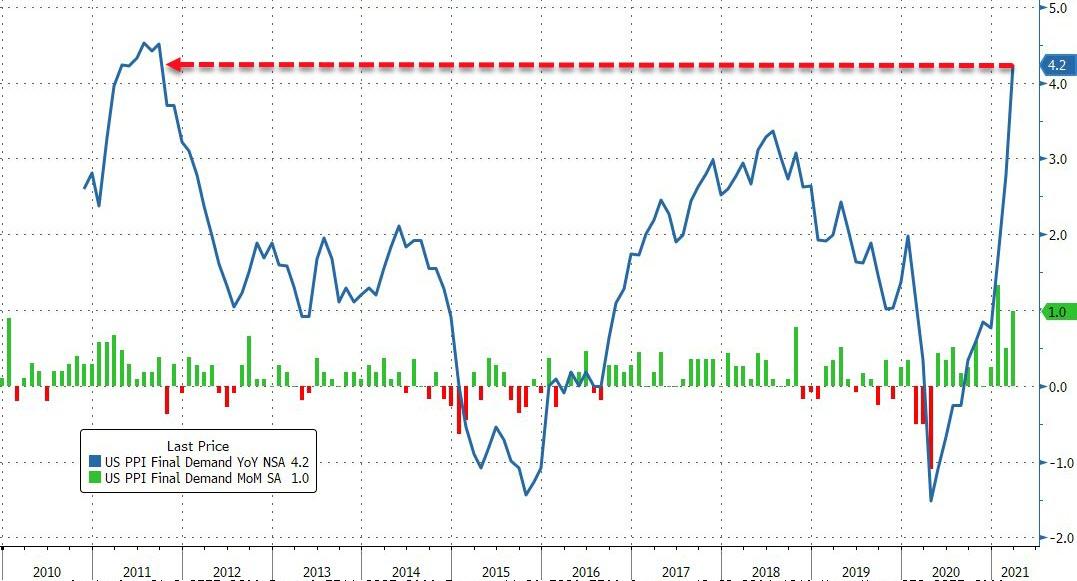 Source: Bloomberg
This is the 11th month in a row of rising PPI.
Over one-fourth of the March increase in the index for final demand goods can be traced to an 8.8-percent jump in gasoline prices. The indexes for diesel fuel, residential electric power, industrial chemicals, steel mill products, and processed poultry also moved higher. In contrast, beef and veal prices fell 4.3 percent. The indexes for fresh and dry vegetables and for surgical and medical instruments also declined.
Over 40 percent of the March increase in prices for final demand services can be traced to margins for machinery and vehicle wholesaling, which jumped 6.7 percent. The indexes for apparel, jewelry, footwear, and accessories retailing; transportation of freight and mail; portfolio management; loan services (partial); and food retailing also moved higher. Conversely, margins for health, beauty, and optical goods retailing decreased 4.2 percent. The indexes for automobiles and automobile parts retailing and for traveler accommodation services also declined.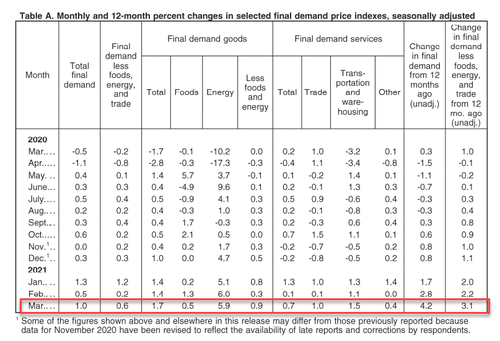 One word… "transitory"…?
***