Pending Home sales 1.9%, Expected 4.4%, Last -11.5%
After a surge in new home sales and tumble in existing home sales, today's pending home sales print is the tie-breaker for whether the housing bubble has peaked on the back of un-affordability and rising mortgage rates. After a 10.6% plunged in February (weather-related), analysts expected pending home sales to rebound 4.4% MoM in March, but were disappointed by a mere 1.9% rebound (and a downward revision to -11.5% MoM in February)…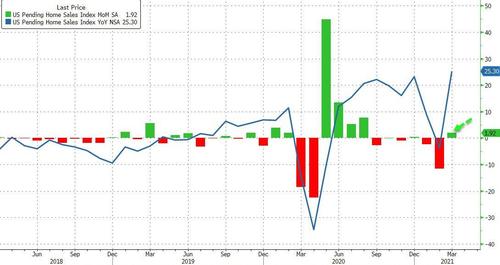 Of course, thanks to the comps from last March's collapse, the year-over-year surge of 25.3% is a little misleading (biggest YoY since March 2010).
So the new home sales surge looks like a big outlier for now…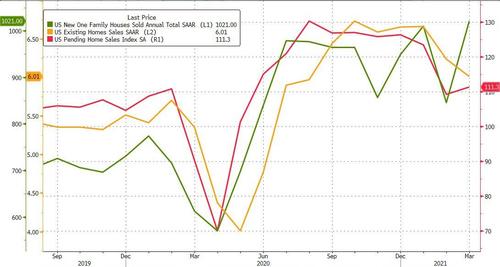 It is likely that the severe winter weather that limited housing activity in February impacted March's pending sales data and rising borrowing costs and skyrocketing property values have been pricing some buyers out of the market.
"Low inventory has been a consistent problem," Lawrence Yun, chief economist at the NAR, said in a statement.

"With mortgage rates still very close to record lows and a solid job recovery underway, demand will likely remain high."
All regions except the Midwest saw gains, with sales rising the most in the Northeast.
***