As the virus pandemic upended life last year, pricey cities across the US experienced rapid declines in rent prices and widespread concessions. The COVID-19 vaccine rollout, reopening the economy, and higher employment have brought some people back to cities searching for rentals. 
Now, US rents are beginning to move higher. Median US asking rent rose 1.1% on an annual basis in March to $1,463 a month across 50 of the largest metro areas, according to WSJ, citing a Realtor.com report. 
March's increase was the first time since the pandemic began that rent growth had increased. For months, rent prices slid as landlords offered concessions to attract new tenants as inventories soared thanks to a tidal wave of city dwellers who fled to rural areas. 
Rising rent prices reflect increasing inflationary pressures in the economy following the Federal Reserve and US Treasury pumping trillions of dollars into financial markets and the real economy. Rents account for 33% of the consumer price index, suggesting higher inflation lurks around the corner. 
"The key question is how long does it stick around?" said Danielle Hale, chief economist at Realtor.com.
Rent increases come as one in six American tenants are in insurmountable debt as they lost their jobs and are unable to pay rent. There are also 17 million folks on some form of jobless benefits. Rising rents will price out low-income folks adding to an already worsening housing inequality crisis.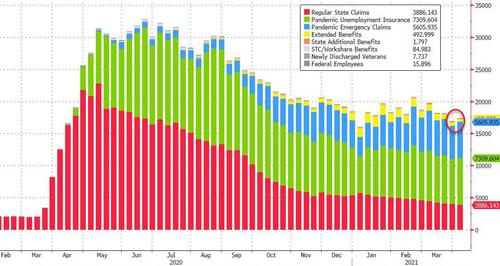 Another reason why rents could continue higher is that soaring home prices are pricing out some prospective homebuyers who may not afford a home and have to resort to renting. 
"A lot of these markets with rent increases are also markets that have pretty substantial home-price increases," Hale said.
Karlin Conklin, an executive at property investment company Investors Management Group, said many of their middle-income apartment buildings in Chicago and Florida had seen rental price increases after months of decline. 
"We're raising rents, even on current residents, maybe 3% from the end of last year," said Conklin. "And brand-new people are coming in the door."
Realtor.com said asking rents in lower-cost, midsize cities like New Orleans, Memphis, Tenn., and Richmond, Va., have surged more than 10% since last year. 
This year, New York City and San Francisco saw stabilization in rent prices after double-digit percentage declines over 2019. San Francisco's rent rose 3.4% in March over the month prior. And in Manhattan, rental rates continue to stabilize and are starting to reverse. 
"For a certain time, it seemed like it didn't matter what you gave [in terms of concessions], the demand just wasn't there," said Robert Nelson, a New York apartment landlord. Now demand has returned, and new leases are being signed across his building portfolio. 
After Manhattan rents dove to a decade low in late 2020, bargain hunters scooped up apartments at great discounts starting in January. Since then, the market has stabilized, but a lot of inventory is still on the sidelines. 
Greg Willett, the chief economist at rental-property software firm RealPage Inc., said the vaccine rollout coupled with office workers returning to work could continue to drive national rent prices higher through summer. 
It's still too early to tell if the latest price increase in rents will be one of a V-shaped recovery to pre-pandemic levels.