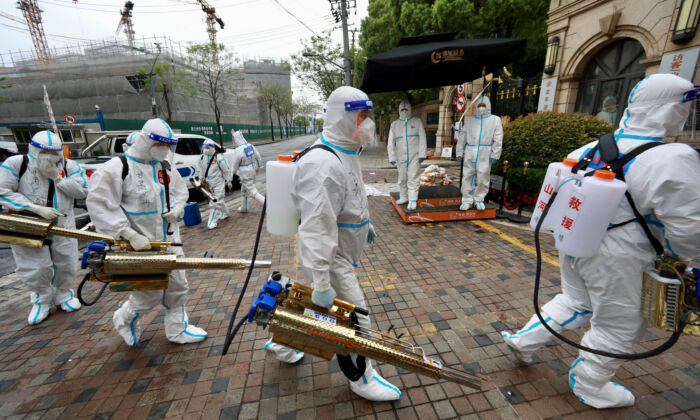 People in protective suits prepare to disinfect a residential compound in Huangpu district in Shanghai on April 14, 2022. (China Daily via Reuters)
(Dorothy Li) Factories have suspended production. Truckers are stuck on highways. Containers are piling up at ports. Shipping vessels have been waiting to unload.
China's economy is set to pay a price as the communist regime's determination to stamp out the COVID-19 outbreak through harsh lockdowns have brought its manufacturing and commercial hubs, like Shanghai, to a halt.
Shanghai is approaching its third week of lockdown. The abrupt closure of the wealthy city that contributes to roughly 4 percent of the country's annual gross domestic product (GDP) started on March 28. Officials allowed 4.8 million people to exit their homes on April 12, but the rest of the city's 25 million residents are still sealed in. As infections hit a record high on April 14, there is no immediate sign of easing.
But Shanghai is not alone. About 373 million people are under partial or total lockdown, analysts at Japanese bank Nomura estimated, which accounted for 40 percent of the economy.
Chinese Premier Li Keqiang has also warned that downward pressures on the economy have intensified.
"[We] should coordinate epidemic prevention and control and economic and social development," Li told local officials at an April 11 seminar, official media Xinhua reported.
Economists have predicted the country is likely to miss its official 5.5 percent GDP growth target this year. Now, they worry if the lockdown continues, the impacts could ripple far beyond the country's borders.
"When the Chinese economy sneezes, the global supply chain catches a cold," French investment bank Natixis said in a Thursday note. "The trend is worrisome."
Tech Woes
Half of China's chip production is from the Yangtze River delta region, centered around Shanghai, with 10 percent directly from Shanghai, according to Natixis.
More suppliers said this week that the tightened curbs in Shanghai and nearby Kunshan led them to halt production. An official at Taiwan's Financial Supervisory Commission said on April 10 that some 161 Taiwanese companies in Shanghai and Kunshan reported their operation temporarily stopped; 41 of them are electronic makers.
On April 12, Taiwan's Pegatron Corp, a key assembler of Apple's iPhones, suspended operation at its plants in Shanghai and Kunshan in compliance with the COVID-19 prevention requirements. The company said it would resume work as soon as authorities gave clearance, but didn't give a specific date.
Unimicron Technology Corp, which makes printed circuit boards for companies including Apple Inc and Intel, also said Tuesday the closure of its factory in Kunshan would be extended to April 19.
Auto Industry Troubles
Carmakers have been hard hit. Tesla's giga factory in Shanghai has yet to resume work. The facility that produced over 65,000 cars in February has halted production since March 28, Reuters reported, citing an internal notice and internal sources.
Its Chinese rival Nio said on April 9 that it temporarily stopped working at a factory in Hefei, an eastern Chinese city that is not under lockdown, because its suppliers in other cities have stopped working.
"If the suppliers in Shanghai and its surrounding areas can't find a way to resume operations and production, in May possibly all of China's car makers will have to stop production," electric-car maker Xpeng's chief executive officer said on Thursday evening.
China's lockdowns have also brought about an auto sales slump. Sales in the world's biggest car market dropped 11.7 percent year-on-year in March, contrasting with an 18.7 percent increase in February, data from the China Association of Automobile Manufacturers show.
German auto parts giant Bosch said that it temporarily shut down two sites in Shanghai and Changchun, a northern Chinese city that has been sealed off since March 11. It added the two other plants are operating in a "closed-loop" system.
"We are currently seeing temporary effects on logistics and supply chain sourcing," said Bosch in an April 12 statement.
Manufacturing Disruption
Signs that the expanding lockdown is hurting the manufacturing economy have emerged. A private gauge showed March activities in the manufacturing sector contracted at the sharpest pace seen since February 2020, when the Chinese regime launched its "zero-COVID" playbook.
Caixin purchasing managers' index (PMI), which is based on surveys of small and medium-sized companies, fell to 48.1 in March, contrasting with a small increase in February.
"Companies frequently mentioned that the measures to contain the spread of COVID-19 had disrupted operations, supply and dampened customer demand," read the report.
Larger factories are also struggling to keep production lines rolling. While some are allowed to keep operations in a "closed-loop" system, with employees sleeping and working on factory campuses, "some workers aren't volunteering anymore," Bettina Schoen-Behanzin, vice-chair of China's top European business group, told a media event on April 6.
Truckers' Blues
Nationwide truck traffic has decreased 40 percent from mid-March, with activities around Shanghai itself a mere 15 percent of normal levels, Ernan Cui, an analyst with Gavekal, said in an April 13 report.
Long-distance truck drivers are feeling the pain. A trucker told domestic media this week that he spent more than two weeks delivering goods to Shanghai that normally took two days. The driver was stuck on highways for days because he was required to present negative results of a COVID-19 test done within 48 hours at multiple checkpoints. He also struggled to pass checkpoints because his smartphone health codes, which needed to be "green" for him to clear inspection, were automatically invalidated while passing through risky areas.
His story mirrors those experienced by other drivers. State-backed media estimated that 30 million truck drivers have become stranded en route due to the curbs.
The extended transportation time is impacting supply chains. Container vessel operators told domestic media that the COVID-19 curbs in Shanghai made trucks unable to retrieve containers in and out of the ports. Maersk, the world's second-largest container shipping company, told clients on April 11 that the efficiency of its trucking service to-and-from Shanghai would be further impacted due to the lockdown.
"Trucking remains limited and the terminals are still congested, whilst reefer yard plug capacity remains highly stressed," Ocean Network Express said in an April 14 note.
Clogged Ports
While Shanghai claims that its ports are functioning normally with special support, Refinitiv data showed the number of container ships waiting off the coast of the city and nearby Zhoushan has more than doubled since the start of April to 118—nearly three times the number a year ago.
The European Chamber of Commerce in China last week estimated that week-on-week volumes at Shanghai port, the world's busiest, are down by 40 percent.
In a sign of pressure on imports, official data released on April 13 showed China's imports in March fell 0.1 percent, the first time since August 2020.
Shipowners, like Maersk, recommend clients to divert shipments from the congested Shanghai port to other Chinese destinations, but analysts are not optimistic.
"If Shanghai port stops functioning, it's difficult for other nearby ports to fill in the void given its gigantic capacity," analysts at financial services firm BBVA said in an April 7 report. "By then the global supply chain will directly feel the pain of Shanghai's lockdown."
Could Be Worse
If the current lockdown persists through April, Shanghai will suffer a 6 percent loss in GDP, amounting to a 2 percent GDP loss for the whole country, Iris Pang, Greater China chief economist at ING, said in a note on April 7.
ING revised China's economic growth forecast for 2022 to 4.6 percent from 4.8 percent.
Economic researchers analyzing city-to-city truck flow data estimated that the country would see its GDP shrink 3.1 percent if one-tenth of Chinese cities entered into lockdown for two weeks.
An April 7 study by Gavekal Dragonomics found that 87 of China's 100 largest cities by GDP have imposed some form of quarantine curbs.
China set a target for the GDP to grow by "around 5.5 percent" this year, the lowest level in nearly three decades.
Natixis said the insistence on its zero-COVID approach "is bound to pose another headwind to the already decelerating economic growth," according to a March 30 note.
The bank had predicted last month that the sharp reduction in mobility due to the lockdown and other restrictions was to shave off 1.8 percentage points from the country's GDP growth in the first quarter of 2022.
The official first-quarter economic data is due to be released on April 18.
Facing the mounting economic cost, the ruling Communist Party leader Xi Jinping reaffirmed the commitment to his zero-COVID policy on April 13, even though the sweeping measures have so far failed to tame the fast-spreading Omicron outbreak. Meanwhile, the draconian curbs are fueling anger in Shanghai, posing a test to Xi who is seeking an unprecedented third five-year term in office this year.
"Prevention and control work cannot be relaxed," Xi told officials during an inspection trip to the tropical island of Hainan. "[We] need to overcome paralyzing thoughts and war-weariness," Xi said. "Persistence is victory."
But ordinary citizens appear to be feeling weary.
Chen Xin, who runs a family-owned embroidery and garment painting factory in Guangdong province, said that since late March he has been unable to ship roughly 70 to 80 percent of orders because customers can't receive them.
"The current situation is, the impact of the policy is greater than the epidemic," he said.
Source: by Dorothy Li | Epoch Times
***
Shanghai Template For Global Climate Lockdowns
Wuhan was the template for COVID-19 lockdowns. Shanghai, the world's third largest city is the template for 'climate change' Lockdowns coming to America and all Western nations.