A week after New Jersey Governor Phil Murphy signaled his virtue to the 'social justice' agenda-watchers by proposing a tax on high frequency trading, no lesser establishment organization than The New York Stock Exchange has passive-aggressively signaled its displeasure by saying in a statement that it will test its ability to operate outside of New Jersey.
The major exchange operators previously have gone to court over proposals that they said would harm markets. NYSE, Nasdaq Inc. and CBOE Global Markets even took the extreme step of suing their main regulator, the U.S. Securities and Exchange Commission, over a transaction-fee pilot program last year. They won.
"A financial transaction tax is a recycled idea with a lousy track record — all over the world," said the Equity Markets Association, a trade group that represents the three companies.
The move by New Jersey would "cause unintended and irreparable harm to the U.S. capital markets," CBOE said in a separate statement. "A transaction tax is a direct cost shouldered by investors, who will also end up paying for the price of diminished liquidity and wider spreads in our markets."
And as we noted previously, the NYSE has already threatened to depart the moment a tax was enacted:
"We have data centers in various states and the ability to move trading outside of New Jersey in a business day," said Hope Jarkowski, co-head of government affairs for New York Stock Exchange parent Intercontinental Exchange.
And today, the exchange, in coordination with Nasdaq, CBOE Global Markets, and other industry participants, ramped up the rhetoric, saying that it will conduct a test of all its exchanges operating from their secondary locations on Sept. 26 to "confirm the industry's ability to seamlessly move live trading out of New Jersey," according to a statement.
*  *  *
Audience: NYSE, NYSE AmericanEquities, NYSE American Options, NYSE Arca Equities, NYSE Arca Options, NYSE Chicago, NYSE National, FINRA/NYSE TRF, and Global OTC Traders
Subject: NYSE exchanges to prepare for potential move from New Jersey data center, including temporary relocation of NYSE Chicago on September 28
Numerous NYSE member firms have recently reached out to the Exchange to understand our plans should New Jersey institute its proposed tax on financial transactions processed through electronic infrastructure located in the state. They are concerned, as are we, that any tax imposed will be passed through to NYSE members, and ultimately their clients, who are often the very same Main Street investors who reside in states like New Jersey and elsewhere.
NYSE has the ability to operate all of its markets out of either its primary data center in Mahwah, New Jersey or an alternate data center. Designed for various disaster recovery scenarios, a change in location can be performed in a matter of minutes, if necessary.
If our members express a strong preference to permanently relocate our trading infrastructure out of New Jersey, the process to do this is well-documented, regularly tested and would not cause any disruption to NYSE operations.
To help test and prepare our members for any such action, NYSE will implement two immediate measures:
1. Relocation of production trading for NYSE Chicago the week of September 28: The NYSE will operate one of its equity exchanges, NYSE Chicago, from its secondary data center from September 28th to October 2nd. This will confirm the industry's ability to seamlessly move live trading out of New Jersey.

2. Weekend test of all markets: The NYSE, in coordination with Nasdaq, CBOE, SIFMA and other industry participants, will conduct a test of all its exchanges operating from their secondary locations on Saturday, September 26, 2020. This controlled test will exercise the industry's preparedness for a potential wholesale transition out of New Jersey. Details for the weekend test will follow in a separate announcement.
*  *  *
Of course, the big question, as we previously noted, what happens when all the states in which NYSE have data centers follow NJ in establishing a paywall for ultra fast trades which do nothing to make the market more efficient unless one counts surging flash crashes "efficiency"?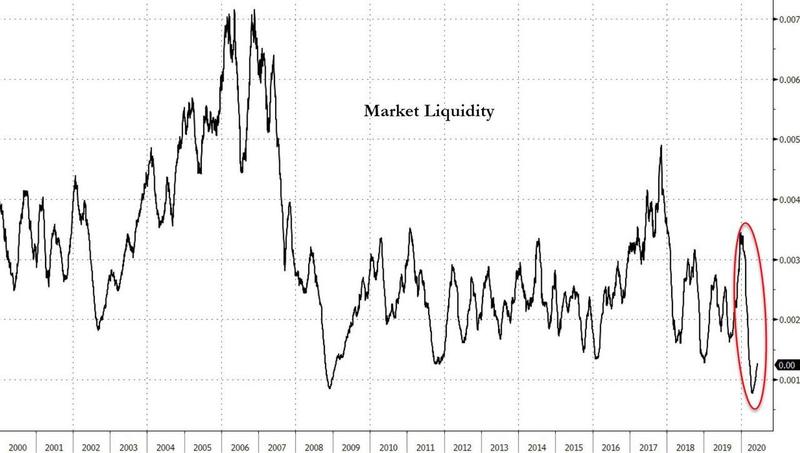 Market liquidity is already at record lows!