Negative interest rates are little understood in the U.S., and this may lead to very expensive mistakes by many investors.

The move to negative interest rates can be extremely profitable – but investors have to be prepared before it happens or the opportunities will be gone.

Detailed analysis of how the Fed using trillions in quantitative easing to force negative interest rates can directly create hundreds of billions of dollars in profits for sophisticated insiders.

When we "follow the money", quantitative easing in a new recession would use monetary creation to force artificially high prices and vastly overpay knowledgeable investors.
(Daniel Amerman) "Following the money" can be a good way of unraveling complexity. Sometimes what the technical jargon is covering up can be as simple as Insider A handing money over to Insider B in massive quantities – and when we understand that, our whole perspective can change.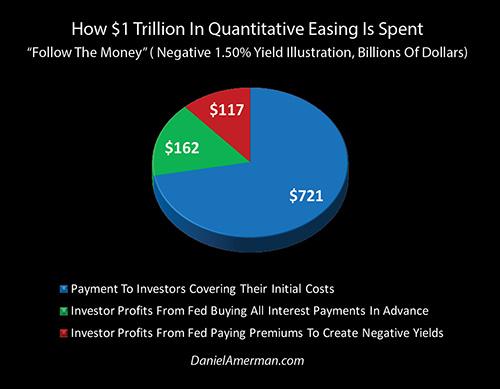 In this analysis, we will explore how a potential future of negative interest rates in combination with quantitative easing could become one of the largest re-distributions of wealth in U.S. history, with hundreds of billions of dollars in profits going disproportionately to insiders – at the expense of the general public. As illustrated with a step by step example when we follow the money – $279 billion out of every $1 trillion in newly created money could end up going straight into the hands of organizations and individuals who make up a relatively small percentage of the nation.
If there is another recession, then the Federal Reserve intends to engage in what could become the largest round of monetary creation in U.S. history. Those dollars will be quite real, and the reason for their creation is to spend them. A big chunk of that spending will become profits going straight into the pockets of investors. This won't actually be a closed game – anyone can try for a share of those new Federal Reserve dollars, but first, they have to understand that the game exists, and then they need to learn how it is played.