Hong Kong has finally entered a recession after more than half a year of violent anti-government protests, the city's Financial Secretary wrote in a blog post over the weekend, reported Reuters.
"The blow to our economy is comprehensive," Paul Chan wrote, adding that upcoming economic data later this week will trigger a technical recession.
"The government will be announcing its advance estimates for the third quarter on Thursday. After seeing negative growth in the second quarter, the situation continued in the third quarter, meaning our economy has entered technical recession," Chan wrote.

"It seems it will be extremely difficult for us to reach full-year economic growth of 0 to 1%. I would not rule out the possibility that the full-year economic growth will be negative."
Protesters have frequently shut down popular shopping districts, something that we outlined last week, warning that the retail industry in Hong Kong is on the brink of collapse.
Tourism plunged 37% Y/Y in 3Q19, and the trend for 4Q19 is likely not to improve. The number of tourists for the first two weeks of October was down 50% on a Y/Y basis. 
Rooms at the most high-end hotels, like Marco Polo Hongkong in Tsim Sha Tsui, are going for $72 per night, a 75% discount versus last year. 
Anyone who wants to travel to Hong Kong this week, departing from New York City airports, can easily get round trip plane tickets for 50% off because air travel to Hong Kong remains depressed. 
Local businesses are cutting back on their workforce as approximately 77% of all hotel workers have just been asked to go on leave without pay. 
Chan said government officials had announced stimulative measures to support local small and medium-sized businesses as the recession is expected to deepen into 1H20.
Hong Kong billionaire Li Ka-shing pledged to give local businesses $128 million in support following the protests that have presented the city with "unprecedented challenges."
In a series of charts below, the city's economic decline suggests a crisis has arrived: 
In a 12-month and 3-month change, Hong Kong retail sales have absolutely crashed over the last half-year. 

Who wants to shop for discretionary goods during a Chicom invasion?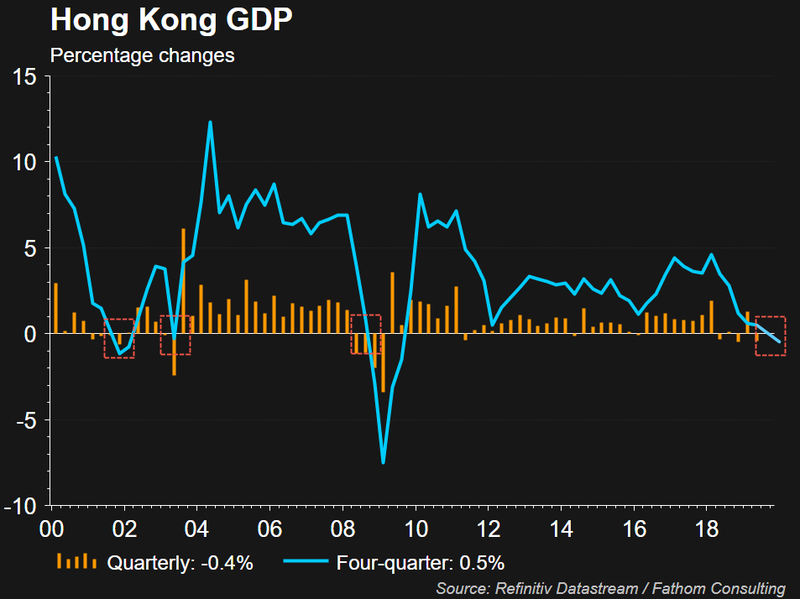 Who wants to risk capital during a Chicom invasion?
  No one wants to pay more than the last guy for housing during a Chicom invasion.
Hong Kong is the first domino to drop. More emerging growth countries will fall under economic stress as the global recession is imminent, if not already arrived.