What do you say when you're asked to cut your commission?
Are you regularly asked to cut your commission?
Do you immediately "cave" and cut your commission when asked?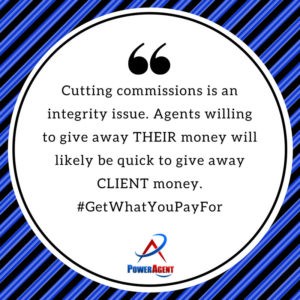 (Nina Hollander) In my personal experience, when prospective sellers ask Realtors to cut their commission it's more often than not because the agents have not properly presented and defined their value to the seller. This means having a very detailed and specific listing presentation that leaves no doubt about what you will do to market their home, along with impressive statistics such as your average days on market versus your market's average agent's.
Then, there are those sellers who read on the internet that they should always ask for a commission reduction up front. What always amuses me is that when I ask why they're asking and say no in a nice way, these sellers typically smile and say "well, you know we had to ask." I always smile back and answer "yes, I know." Then I steer the conversation on to other topics. More often than not, sellers drop the conversation about commissions right there and then. But you should always ask why they are asking… you can't respond properly until you know what's behind their question.
Let's face it, you don't want to lose a potential listing client,  but you also don't want to immediately slash your rate and devalue your worth. Since the commission cutting conversation never seems to go away, here's a link to some great scripts from McKissoc Learning to show prospective listing clients why you're worth every penny of what you earn without sounding defensive. These scripts address the three primary reasons home sellers ask for a commission cut according to McKissoc Learning:
The sellers don't have sufficient equity in their home

The sellers are being "savvy" consumers, looking for the "best" deal they can get.

The sellers don't see the true value of what you bring to the table.
Clearly, there's not much you can do about the lack of equity. And maybe that is a listing you don't want to be handling The two second reasons are totally in our control to handle in the listing presentation/conversation.
Script: HOW TO RESPOND WHEN YOU'RE ASKED TO CUT YOUR COMMISSION
Meantime, keep those scissors for cutting hair, not your commission!